Health & Wellbeing
Young sporting star an inspiration to all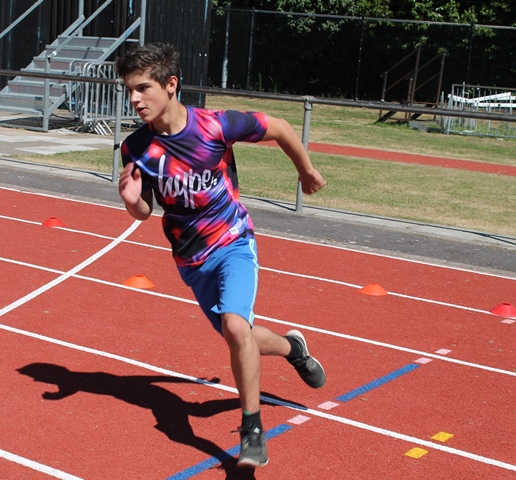 Access Day 2017 Thomas Stamp
26 July 2017
A young sprint star from Swindon could soon be on his way to the Paralympic Games thanks to a Swindon Borough Council-organised sports day.
Thomas Stamp, who attends St Luke's School, is now a UK Parallel Success Athlete and recently showed off his talent at this year's Access Day after originally being spotted at the event two years' ago.
The day, which is held at the County Ground athletics track, is organised annually by the Community Health and Wellbeing Team at Swindon Borough Council in partnership with advisory teachers to encourage children with a wide range of disabilities to try new sports and activities. The main sponsor for this year's event was the Tony Long Trust.
Having been diagnosed with cerebral palsy and ADHD, Thomas previously had to use a wheelchair at times and had difficulties with mobility. Although this is still the case to a milder degree, he is now able to run faster and jump, something which he was unable to do before.
Thomas was spotted by Job King, the Midlands and South West England Disability Sports Officer, in 2015 and then began attending UK Sport's Talent Introduction days before meeting GB coach Mark Lodge of Yate Athletics Club.
He now trains with this club regularly and is on the Talent pathway, aiming towards a place at a future Paralympic Games.
The 15-year-old is currently ranked at number one for all three sprints (100m, 200m and 400m) for the T35 classification in the South West, and is also on the Power of 10 rankings for each distance. This is a list of all UK affiliated athletes, coaches and clubs in order to show how athletes are performing, enabling them to be supported through their pathways onto the next performance level.
Having been a victim of bullying and disability hate crime in the past, Thomas said: "Athletics has given me the outlet and the opportunity to show others that sport can break down barriers as well as build confidence and friendships.
"Access Days have helped me feel more able to fulfil my dreams along with my coach and parents who keep me on track. I never thought I could ever do this but here I am."
He also mentors and inspires other students from Crowdy's School in Swindon, passing his passion for sport on to others.
Looking to the future, Thomas is aspiring to compete at a Paralympic Games and make it to the podium for Great Britain.
Cllr Fionuala Foley, Swindon Borough Council's Cabinet Member for Children's Services and School Attainment, said: "Thomas is a wonderful example of the positive change which events such as Access Day can bring. The progress which Thomas has made is truly remarkable and I wish him all the best for the future as he heads towards the Paralympic Games."