Health & Wellbeing
Councillor visits Great Western Hospital to support Learning Disability Week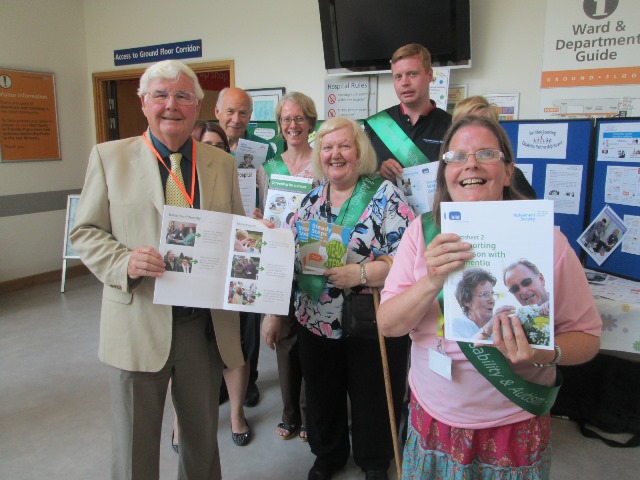 Councillor visits Great Western Hospital
21 June 2017
Cllr Brian Ford, Swindon Borough Council's Cabinet Member for Adult Health and Social Care, joined colleagues from the Learning Disability Partnership Board and hospital staff at Great Western Hospital on Monday, to mark the start of Learning Disability Week.
Swindon Borough Council staff have teamed up with Great Western Hospital's NHS Foundation Trust to raise awareness of the stereotype-busting work taking place across the town to empower people with learning disabilities.

The two organisations have come together throughout Learning Disability Week, which began on Monday 19 June, to stage events that will not only give local people more information, but also encourage them to change the way they view people affected by conditions such as Down's syndrome and autism.
During his visit, Cllr Ford took the opportunity to meet Board volunteers and hospital colleagues and hear about the day's progress. A wide range of information is being made available throughout the week, with members of the Learning Disability Partnership Board on hand to answer questions and share useful information. The Board is chaired by Cllr Ray Ballman, and comprises figures from both the Trust and the Council.

More than a million people in the UK have some form of learning disability, with the most common types affecting the way a person processes information, learns new things or communicate with others.

It can make everyday tasks, such as visiting hospital or accessing local support services, incredibly difficult, which can often result in people compromising their own health and wellbeing.

Cllr Ford said: "I was delighted to have the opportunity to visit the stand, meet colleagues and see for myself some of the great initiatives available to help people with learning disabilities. A great deal of help and advice is available and dedicated staff provide unstinting service to help those with disabilities.
"And while we're out spreading these positive messages, we want to highlight the incredible work that goes on behind the scenes.

"The Learning Disability Partnership Board plays a critical role in championing opportunities for adults with a learning disability by ensuring their voice is heard, promoting choice and control and enabling them to play their full part in society.
"This information stand, staffed as it is by members of the Board and both hospital staff and volunteers, is a perfect example of people working in partnership. A team approach is how we achieve the greatest results."
For more information about the services available in Swindon for people with learning disabilities, visit www.mycaremysupport.co.uk
Cllr Ford is shown with members of the Board, hospital staff and volunteers.