Health & Wellbeing
Health and Wellbeing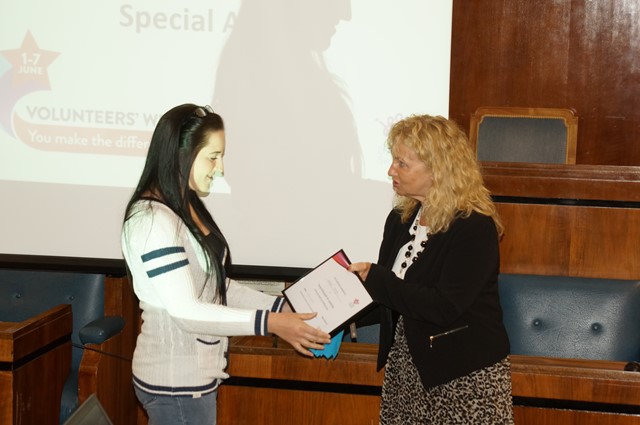 Tuesday 6 June 2017
Loyal volunteers were praised by Swindon Borough Council's Health and Wellbeing team at special get together at the Civic Offices last night (5 June).
Putting Swindon Borough Council's Public Health agenda firmly into practice, the Community Health and Wellbeing Service was launched last October to promote healthy living and improved quality of life for all Borough residents, whether young or old. Underpinned by the Council's Health and Wellbeing Board, it has the firm aim of encouraging healthy lifestyles and giving all Swindon residents the best possible experience of the health and care system.
Swindon continues to face huge challenges from an ageing population, ill-health due to physical inactivity, obesity, alcohol misuse and smoking.
However, in recent years a whole range of initiatives have been launched by the Council and the reunion was an excellent chance for the Council team to record their thanks to the Service's volunteers, update them on progress and hear of their experiences.
Opened by Swindon Mayor Cllr Maureen Penny and hosted by Cherry Jones, Director Public Health and Helena Robinson, Programme Lead for Community Health and Wellbeing, the event was an opportunity for service leads, council voluntary sector specialists and the volunteers themselves to get together to share ideas and best practice, and discuss the rewards and challenges of helping others in the community. For their part, volunteers were able to make recommendations to enhance the service.
Welcoming the visitors, both Cherry and Helena set out their vision for the service to the packed audience.
Delegates reviewed progress on a whole series of initiatives under the Health and Wellbeing banner including Get Active Volunteers, Young Ambassadors, Swindon Walk Leaders and Community Volunteers.
Also at the reunion were members of Swindon Circles, a friendship scheme that gives volunteers the chance to befriend older people and help them combat loneliness and enjoy an increased quality of life. Swindon Circles is the newest addition to the Community Health and Wellbeing family, joining the service in April this year.
Guests also included representatives from the local voluntary sector, among them members of Age UK and local Community Centres. Volunteer experiences were brought to life in 'look at life' video clips recorded by the volunteers themselves of some of their initiatives, such as Swindon Walk Leaders and the Young Ambassadors programme.
Representatives from the Get Active and Swindon Circles volunteers also briefed visitors, displaying their passion and enthusiasm for the work they do.
Commenting on the evening, Cherry Jones said: "This was a highly successful event and I was delighted to see such a large turnout. We rely on our loyal volunteers to add extra value to the Council's services, helping us deliver vital support to the Borough's older and less advantaged residents. They commit their time, energy and expertise and this was a chance for us to say a big thank you to them and hear about their experiences.
"Equally, it was very encouraging that so many new or potential volunteers wanted to come along, let us know how they are getting along and see how they can support local people. Anyone who would like to more about the Community Health and Wellbeing Team, and how they can get involved is encouraged to contact the Livewell Hub on 01793 465513 or email livewell@swindon.gov.uk ."
Picture shows:
Amber Tonge, 24 (left) receives her certificate from Cherry Jones, Director Public Health, on being appointed Young Ambassador for Leadership.