Health & Wellbeing
Council workers praised for saving life of colleague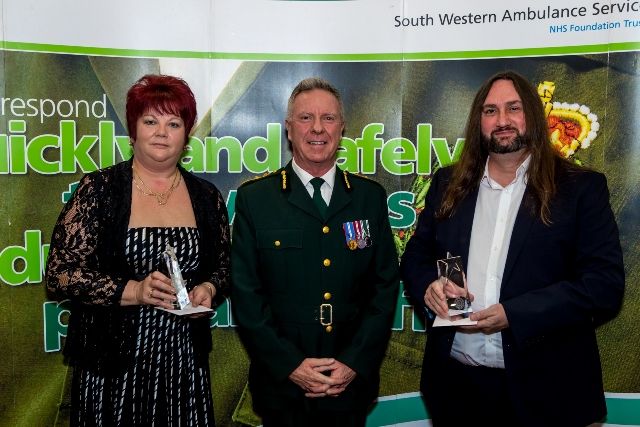 Heather and Roger pictured after receiving their awards with South Western Ambulance Service Chief Executive Ken Wenman
Tuesday, 21 November 2017
The lifesaving exploits of two Swindon Borough Council employees have been recognised by South Western Ambulance Service.
Heather Lane and Roger Haworth received a Chief Executive's Commendation at the ambulance service's recent staff awards for saving the life of their former colleague Jeremy Anderson, who collapsed at work after suffering a cardiac arrest in May last year.
Experienced first aiders Heather and Roger put their years of training to excellent use by first performing CPR and mouth-to-mouth and then utilising one of the Council's automated external defibrillators (AEDs). Both Heather and Roger had previously undertaken first aid training with South Western Ambulance Service which provided the Council's defibrillator.
Once ambulance staff arrived, they gave Jeremy advanced emergency care before taking him to the Great Western Hospital for further treatment. He has since made an excellent recovery from the cardiac arrest, but was diagnosed with dilated cardiomyopathy, a disease of the heart muscle that causes it to become stretched and thin, and unable to pump blood around the body efficiently.
The annual South Western Ambulance Service staff awards acknowledge those staff who have gone above and beyond their remit and deserve extra recognition. Heather and Roger were the only two people to receive a special award for members of the public on the night at the awards, which were held at Kingston Maurward College in Dorchester.
They were nominated for the award by colleague Zoe Moore, who was inspired by their inspirational and quick-thinking actions.
Roger, the Council's Special Needs and Social Care Transport Team Leader, said: "I was surprised, honoured, and humbled to receive the recognition. At the time, I was about to start a meeting when a colleague came into the room and said that a first aider was needed. I felt that sinking feeling, not knowing what I was going to be dealing with.
"When I realised that Jeremy was completely unresponsive, my overwhelming thought was that dealing with this was going to be my life for the next however long, and nothing could get in the way. This was as serious as it could be. Two days after the event, to receive a phone call from Jeremy at the hospital was incredible."
Transport Project Manager Heather, added: "I was sat at my desk when in a calm whisper Roger's manager came to me saying we need another first aider. Like Roger said you get that sinking feeling and hope after all the years of just treating cuts and the occasional fall that the CPR training we received along with the defibrillator training, run by the ambulance service, would kick in, which fortunately it did.
"At this point I took over the compressions while Roger proceeded to perform mouth to mouth. We continued until the paramedics arrived at the scene, set up their equipment and were ready to take over. None of the efforts we made would have been realised but for the early detection that Jeremy was not responsive when our colleague passed by, the rapid retrieval of the defibrillator from reception and the combined efforts of other work colleagues playing their part in moving furniture.
"The security guards at Wat Tyler house also did a sterling job by ensuring the emergency services crews had clear access through the building and supported us throughout the incident.
"Receiving this award was a complete surprise and a once-in-a-lifetime honour which will take pride of place at home."
Rob Horton, Responder Manager for South Western Ambulance Service said: "I am delighted to see Heather and Roger recognised for their outstanding and life-saving work. They have shown great dedication to first aid training for many years and are an asset to those they work with. It is extremely rewarding and very humbling to see how the Trust's defibrillator programme and the training we provide has such a dramatic and positive impact.
"More than 3,600 people are resuscitated by ambulance staff every year in the South West because they suffer a pre-hospital cardiac arrest and we know that for every minute that passes once in cardiac arrest, a person loses a further 10 per cent chance of survival. Without doubt the availability of a defibrillator within the Council along with having fully trained people ready and able to use it really did save a life that day."
For further details about SWASFT defibrillator scheme please visit here: