Health & Wellbeing
Homeline celebrates 30 year anniversary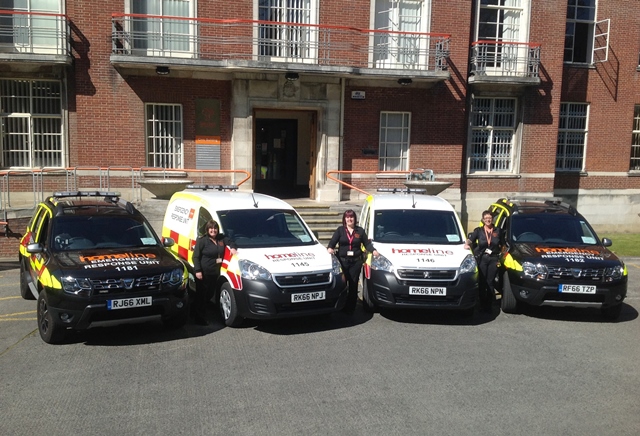 13 October 2017
Many Swindonians will have seen, or even had to call on, the fleet of brightly coloured Homeline vehicles that are on the move every day around the town, helping people in need.
As Swindon Borough Council's long established emergency response service, Homeline is well-known across the Borough as a vital support mechanism for vulnerable people, available to administer first aid for people suddenly taken ill or those who have fallen at home.
Fitted with a modern range of equipment, Homeline exists to extend residents' independence by providing an alarm system in their homes and peace of mind to their loved ones.
This year marks the 30th anniversary of the Homeline service, which has come a long way from the pilot project that was launched back in 1987.
Since then, the service has grown beyond recognition and there are now some 5,000 clients on the books with an average age of 68.
Swindon Housing's Principle Homeline and Telecare Officer, Jack Sharp, has been managing the service for 14 years. He said: "We've come a long way since the dedicated but far less ambitious 'offer' in 1987. Today's service is very different thanks to the enormous strides that have been made in technology, but what hasn't changed is our ethos. Helping people to remain independent within their own homes and supporting them in an emergency still lies at the heart of our service.
"Every month the team responds to thousands of calls and dispatch emergency crews approximately 500 times. We carry out a full check of the individual and notify family members or, if appropriate, the emergency services.
"We have a really strong relationship with South West Ambulance Service, community nurses and GPs, as well as the other emergency services. As the original advert said, we provide 'help at the touch of a button' and that is every bit as true today."
The service is available to anyone in Swindon and operates 365 days a year, 24 hours a day. Often, it comes as part of a planned discharge from hospital after recovering from an illness.
A few years ago the service was praised for saving the life of a bedbound pensioner in Haydon Wick. She pressed an emergency pendant when her blanket caught fire, but was unable to speak. The quick-thinking call handler heard the smoke alarm and dialled 999 to alert the fire service. Fire crews and Homeline officers were there in minutes and the blaze was rapidly extinguished.
Swindon Borough Council's Cabinet Member for Housing and Public Safety, Cllr Cathy Martyn, added: "I am very proud of the service that the Homeline team provides to vulnerable people and the reassurance it provides to their family and carers. Over the last 30 years the service has gone from strength to strength, saving lives and helping people to remain independent and enhancing their quality of life.
"This doesn't just benefit them but their friends and family, who can be reassured that help is on hand for loved ones at the touch of a button.
"Homeline has picked up well-deserved accolades over three decades and I am sure it will continue to enhance and save lives for the next 30 years."