Children's Services
Cabinet approves new primary school and nursery for North Swindon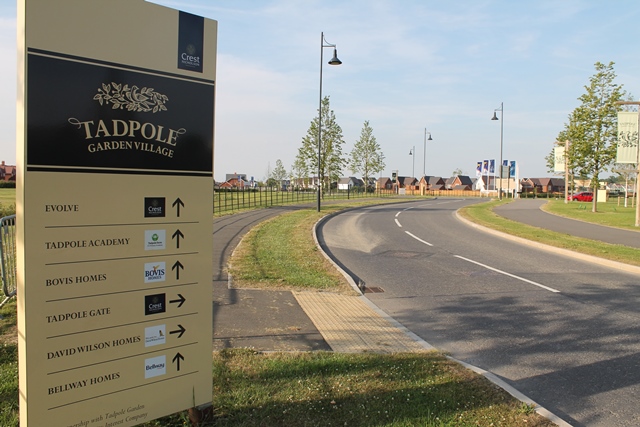 Tuesday, 20 June 2017
A North Swindon community will become the latest to benefit from a brand new primary school and nursery as Swindon Borough Council's policy of providing new education facilities continues apace.
The new two-form entry primary at Tadpole Garden Village was approved by the Council's Cabinet last Wednesday (14 June) and will put the Council a third of the way through its Pledge 15 - to facilitate the building of two Free secondary schools, a further secondary school and 12 primary schools to meet the needs of the town's increasing population.
The Council has had a number of new schools approved in recent years, ensuring that approximately £78m of external funding will be invested in new education facilities.
Following Cabinet's approval, plans for the new school will be drawn up and a consultation with the local community will start this month to identify the preferred location for the primary school.
The Council will also seek to appoint an education provider for the new Free school. Funding for the new facility will come from contributions secured from housing developers, while an additional £2m will be provided from the Council's Schools Capital Programme.
The need for a new primary school at Tadpole Garden Village was identified through the Swindon School Place Planning Study. Up until this point, the Council created additional classes in neighbouring schools in order to cater for the demand for school places from families moving into the new Tadpole Farm development.
The opening of a new two-form entry school at Tadpole Garden Village will cover the majority of the extra places that would be needed from the large housing developments and an additional two-form school will also be required at nearby Abbey Farm to meet the demand generated from smaller infill developments in North Swindon, especially around Blunsdon Stadium.
In April, the Council was notified by the Department of Education that the bid to open the Abbey Farm Primary School as a Free school was successful, but an application by Great Western Academy to open a similar Free school at Tadpole Garden Village was not approved, prompting the Council to step in to provide the new school.
Any proposal to establish a new school at Tadpole Garden Village will be subject to a successful planning application and it is hoped an education provider will be sought to run the school by the autumn.
If a suitable education provider is found to run the school and planning permission is granted, it is anticipated the new school would open in September next year.
Cllr Fionuala Foley, Swindon Borough Council's Cabinet Member for Children's Services, said: "We have ensured there has been significant investment in our schools in recent years because we believe it is important our children have the very best facilities in order to enhance their learning.
"It is no secret that have a rapidly expanding population here in Swindon and that creates extra pressure on school places. We are, however, very lucky to have an excellent School Place Planning team who identify exactly where we need extra capacity and plan accordingly. It is why we match more than 90% of pupils with their first choice of primary school year in, year out.
"When the Great Western Academy's bid for the Tadpole Garden Village primary was unsuccessful we had to step in as it is our duty to ensure all our communities, especially our new ones, have the facilities they need."