Children's Services
Shoulder injury prompted new and hugely rewarding career direction for foster mum Julie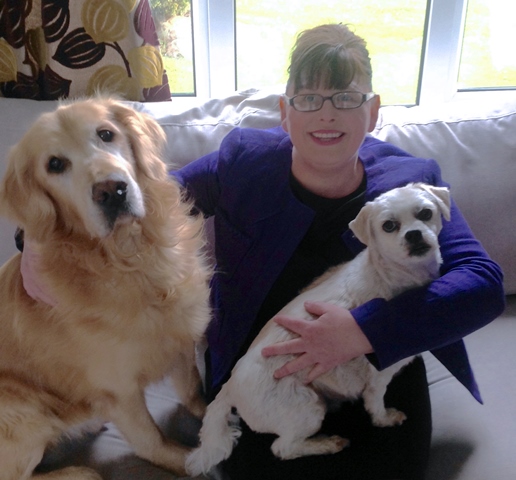 Julie at home with her two dogs, favourite companions of her foster girls
Wednesday 17 May 2017
A shoulder injury that put paid to her ambitions to train as a midwife prompted a new and highly rewarding career direction for Julie Simkiss, from Old Town.
Following a long Civil Service career in finance, which took her to Brunei in the Far East and a NATO attachment in Belgium, Julie moved on to train as a midwife in 2012 but seriously injured her shoulder, meaning she was no longer strong enough for the role. She is now training as a clothes fitter with Marks & Spencers.
But Julie, 48, has now discovered an equally fulfilling role helping vulnerable children. Casting round for a chance to help the community in other ways, Julie trained as a foster carer and, as the nation celebrates Foster Care Fortnight from 8 – 21 May, now has her hands full looking after two teenage girls who live with her full time.
Foster Care Fortnight is championing foster carers country-wide, showcasing fostering services and highlighting the need for more foster carers.
The lively teenagers, aged 14 and 15, have both been with her for nearly a year now and have settled in well. Both attending the same school, they quickly got their feet under the table with Julie, her two dogs and three cats!
Julie said: "The girls are on the go every day. Feeling more settled now, they are thriving at school, being able to really concentrate on their favourite subjects, and have a packed spare time programme. We get out and about most weekends, and have been sightseeing in London. They still see their families often and everyone gets on well, and they would like to stay with me until they leave school."
The 15 year old has been with Julie for nearly year and has achieved lots of successes, including STEP, the Swindon Ten to Eighteen Project which helps youngsters build up self- confidence. Working her way up from STEP Member to Mentor, she was selected in November to shadow the Housing Minister in London for a day. She now supports Swindon Youth Council, a young persons' 'think tank' to recommend ways of bringing benefits to Swindon.
Favourite school subjects are Spanish, art and history and she hopes to study Design and Architecture at University.
Her second foster child is a keen singer and joined Julie in September. She has taken part in the Big Little Festival in Old Town Gardens run by her school and has spent time with SHED – the Swindon Horse Education Project – a former dairy farm in Cricklade giving her the chance to work with horses and ponies. She has a history degree in her sights.
Julie said: "The girls are happy and safe now, and I hope living with me will allow them to really thrive and live a normal productive childhood. If I can help them achieve all their aspirations I will have done a good job.
"I have fostered nine children now from a variety of backgrounds since I took on a fostering role, and every placement brings its own rewards, for me and hopefully for my foster children."
She added: "Swindon is desperate for foster carers and I can't recommend the role highly enough. It can be a challenge juggling it with one's job – as is the case for any working parents – but it's really life enhancing.
"I am so lucky to have been given this opportunity to make a positive difference to the girls' lives."
With 140 foster households in the Borough, Swindon Borough Council's Fostering and Adoption Service needs 30 more adopting households this year. Fostering can be on short and long-term placements, from a few days to many years, allowing a lasting bond to flourish.
Free ongoing training is provided, help and advice 24/7, and a carers receive payment and allowances including extra for Christmas, birthdays and holidays.
This April this year the Council introduced a new foster carers payment scheme, ranging from £200 - £750 per week dependent on skills and experience and the number of children fostered. Other benefits include annual leave pay, school uniform allowance, help with the cost of new furniture for children in care and other financial assistance.
To find out more go to our fostering website at www.swindon.gov.uk/fostering, call the Council team on (01793) 464329 or email: fosteringrecruitment@swindon.gov.uk