Children's Services
Swindon's youngsters get going today for popular Young Wardens scheme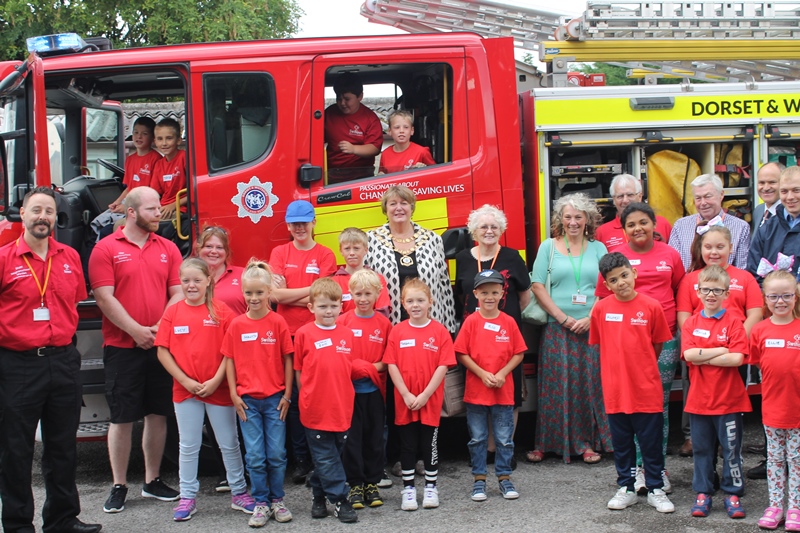 Swindon's youngsters get going today for popular Young Wardens scheme
24 July 2017

Swindon's youngsters get going today for popular Young Wardens schemeEighty young Swindonians got straight into the swing of it today at the launch of this year's Young Wardens scheme.
Running for the past eight years, this free education programme provides awareness raising, education and lots of fun for children of Swindon Borough Council tenants.
Aimed at children aged between 7 and 11, the scheme is run by the Council's Neighbourhood Warden team, who work in the community helping to keep housing estates safe and clean.
20 youngsters each from Penhill, Parks, Pinehurst and Freshbrook have signed up to the scheme, meaning it is now fully booked.
Mayor of Swindon Cllr Maureen Penny officially launched this year's programme today at John Moulton Hall in Penhill, when she joined the youngsters to see what they will be doing, while also meeting the organisers. On hand were members of Dorset & Wiltshire Fire Service who brought along a fire engine for the youngsters to inspect.
Also present was Cllr Cathy Martyn, Swindon Borough Council's Cabinet Member for Housing and Public Safety, ward councillors Teresa Page and Joe Tray, and Mike Ash, the Council's Head of Housing Services.
Road and internet safety will figure in the programme as well as learning about 'stranger danger'. The teams of young people will also be making positive contributions to their local areas through litter picking, planting and other projects, and learning about the importance of recycling. The agenda will also take in fire station and police station visits.
The summer of activities will finish off with a grand finale in the shape of a barbecue and fun sports day at Lydiard Park on Friday, 25 August.
Welcoming the excited youngsters, Pete Holohan, the Council's Neighbourhood Housing Services Manager, said some 800 young people had already been through the scheme, and he thanked the many supporters and sponsors, including Michaels Workwear, Tesco, Aldi and Morrisons.
For further information about the scheme email: pholohan@swindon.gov.uk or log onto: www.swindon.gov.uk and search for 'Young Wardens'.
Picture shows the Young Wardens with the Mayor of Swindon, Cllr Maureen Penny, and Council colleagues.