Children's Services
Improving town's educational outcomes top of Swindon Challenge agenda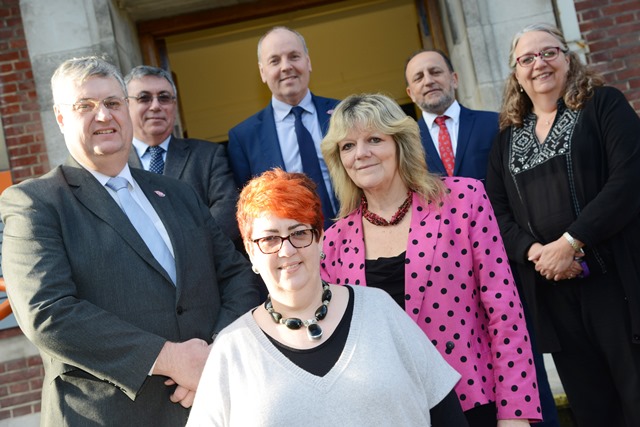 Members of the Swindon Challenge Board - Picture courtesy of Swindon Advertiser
Thursday, 23rd March 2017
Education leaders in Swindon have set out their bold vision for improving educational outcomes in the town's schools through the launch of a new strategy.
The Swindon Challenge Board met for the first time last night to outline a key set of objectives which will ensure excellence underpins all education provision in Swindon.
Improving educational opportunities and attainment forms part of Swindon Borough Council's Priorities and Pledges, and the Council has set aside £600,000 over the next three years to help achieve the outcomes set out in the Swindon Challenge strategy.
Swindon Challenge brings together all key stakeholders in education including the Regional Schools' Commissioner, headteachers, the teaching schools, governors, local businesses and senior council leaders. Ofsted have agreed to have observer status to the board.
Anji Phillips has been appointed as the independent chair to the Challenge board. Anji was previously a headteacher, an Ofsted inspector and Director of Education and Director of Children's Services in Richmond (graded as outstanding under her leadership).
Swindon Challenge will strive to ensure that every school in Swindon is rated by Ofsted as being 'good' or better by 2020, while also increasing the proportion of young people accessing Higher Education by 25 per cent.
Leading educational research and practice will be brought into Swindon to shape and influence leadership in schools. Stronger partnership working with national educational bodies and high performing local authorities will also be high on the Swindon Challenge agenda to improve outcomes across all Swindon secondary providers.
Another key target will be to ensure that Swindon's GCSE results and Post 16 indicators at least meet national averages against national benchmarks for all pupils including those with SEND (Special Education Needs and Disability).
There will be an emphasis on phonics outcomes for Year 1 pupils to ensure they are at the national average or above and that reading, writing and mathematics standards are at least in line with national averages when children leave primary school at the age of 11.
Strong and sustainable school structures in the form of Multi Academy Trusts and School Federations will also be in place by 2020 to ensure Swindon has a self-improving education system.
Swindon Challenge is being launched despite a number of improvements having already been made across Swindon schools. Phonics and writing champions have been appointed to model and share good practice across Swindon primary schools and The Teaching School has run a number of courses on the effective teaching of phonics, writing and reading.
Based on predictions received from all of Swindon's primary schools, it is anticipated there will be a considerable improvement in the headline Key Stage 2 indicators and in Key Stage 1 phonics.
The National Education Trust is working with all of Swindon's secondary schools to review the provision and outcomes for disadvantaged pupils and also for SEND pupils in the borough, and funding is being provided to some secondary schools to put teachers through the Improving Teaching and Outstanding Teacher programmes.
Specific funded projects are being developed with schools judged as being requires improvement or below to raise attainment.
Council officers, in partnership with the Regional Schools Commissioner, have also played a key role in setting up partnerships with some of Swindon's secondary schools that are not meeting national targets.
Cllr Fionuala Foley, Swindon Borough Council's Cabinet Member for Children's Services, said: "Improving education is at the heart of the Council's Vision, Priorities and Pledges and we have set some challenging targets over the next few years, which is why Swindon Challenge is so important in helping us to achieve those goals.
"Although we have a number of fantastic schools and exceptional teachers, we know there are areas where we need to do better. We have made great strides already with the work we are doing with phonics and writing in our primary schools and we have worked hard to help some of our secondary schools by setting up partnerships with other schools so they can share best practice and drive up standards.
"But we will not see instant results. This is the start of a journey and it will not be easy, but I am confident with everyone pulling in the right direction Swindon will rise to the challenge."
Anji Phillips added: "This prestigious Challenge Board will draw on the collective leadership of the Council and its partners to set a blueprint for cultural change in Swindon, in which all stakeholders drive educational improvement to meet the ambitions for all children and young people."