Communities
WICHELSTOWE SAYS 'HELLO & WELCOME' TO A NEW HALL & WOODHOUSE PUB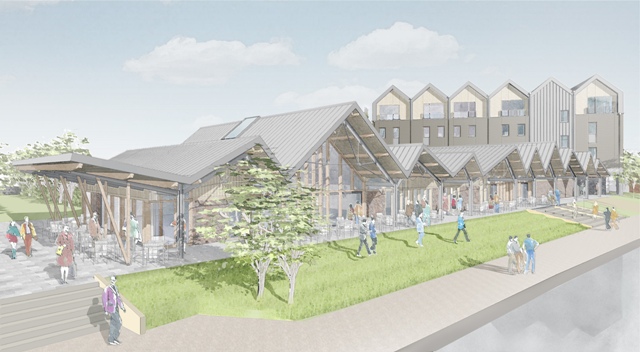 An artist's impression of the new Hall & Woodhouse café, bar and restaurant at Wichelstowe
Thursday, 23 November 2017
Planning permission has been granted to Hall & Woodhouse for its new flagship café, bar and restaurant in Canalside, Wichelstowe (opposite the existing Waitrose).
Construction will start in February 2018 and the first pint of Tanglefoot will be drawn in January 2019.
Spread along 200 metres of Canalside and simply called 'Hall & Woodhouse', the Wichelstowe site will be an urban, all-day, multi-occasion café, bar and dining room. An integral part of the local community, it will be a vibrant, popular and aspirational space where locals and visitors alike come to belong, relax, share and celebrate.
The design is inspired by the golden era of canals 1750-1820 (the same period that Hall & Woodhouse was founded) and will evoke the boatyards, trading halls and warehouses that grew up around the canal network in Georgian Britain. Hall & Woodhouse's development team are being guided by Professor Mark Horton (BBC TV presenter, archaeologist and Vice President of the Cotswold Canals Trust) to ensure that the new café-bar-restaurant captures the spirit of canal life.
Anthony Woodhouse, Hall & Woodhouse's managing director, said: "It's a great privilege to be entrusted by Swindon Borough Council to develop this prestigious site. We aim to create a true heart to Wichelstowe. The Canalside café, bar and restaurant, adjacent to the new town square, opposite the beautiful Waitrose will be a wonderful facility for local residents, business people and visitors to use as their third place – between home and work.
"As well as amazing views we'll offer a great menu, lovely coffee, tea and cakes and the full range of our Badger cask and bottled beers. Our aim is to provide a community facility for all occasions that both residents and visitors to Wichelstowe can cherish and enjoy."
Cllr Toby Elliott, Swindon Borough Council's Cabinet Member for Strategic Planning and Sustainability, said: "We are very pleased to be welcoming Hall & Woodhouse, a well-established family brewer with a high reputation in both brewing and hospitality.
"We have been particularly impressed with its new establishments in Bath, Portishead and Poundbury and believe the company can bring the expertise we require for creating Canalside, Wichelstowe as the heart of the new community.
"We think it will be very popular with local businesses, residents and the thousands of people who visit Wichelstowe every year."