Communities
Swindon's war heroes to be recognised in new book by Libraries team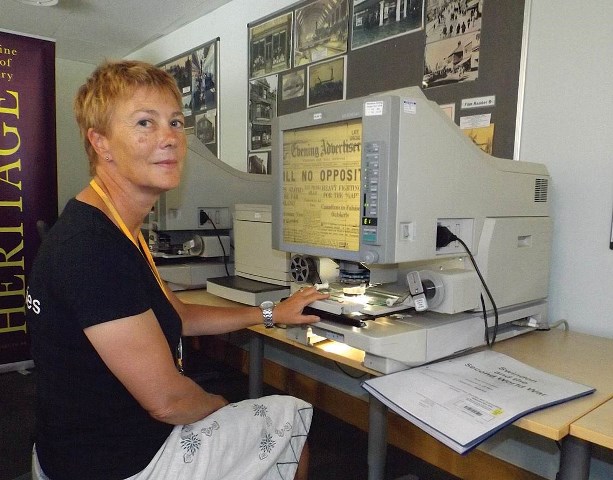 Local Studies officer Katherine Cole (picture courtesy of Swindon Heritage)
Thursday, 12 October 2017
They made the ultimate sacrifice for their country. Yet the lives of more than 600 people from Swindon and its surrounding villages who died in the Second World War have never formally been recognised by the town.
But all that is set to change thanks to staff from Swindon Libraries' Local Studies team, who have painstakingly spent the past two years trawling through their collection of newspaper archives, parish magazines, the GWR staff magazine, local history books and school magazines to compile a list of those who gave their lives during the conflict.
Although Swindon, like many towns, has a Roll of Honour for those who died in the First World War, nothing was ever commissioned locally after 1945.
The list being produced by the Local Studies team will fill that void and plans are in place to produce a book with details of the war dead.
So far more than 1,000 entries have been recorded with well over 600 service personnel now listed. The names, numbers and details of servicemen (and a few women) from the borough have been collected and the list also includes more than 200 prisoners of war and 135 servicemen who were awarded gallantry medals or awards from all services and fields of combat. Of these, 20 men died during the war.
Katherine Cole, Local Studies officer, said: "I have spent the last two years creating the Roll of Honour and it is our way of paying tribute to all those people who lost their lives in the Second World War.
"The project started after someone asked me if I knew how many men from Swindon had died in the Second World War. I couldn't find a record anywhere so I thought it would be interesting to compile my own list.
"I didn't think it would take this long, but it has been truly fascinating. The list keeps on growing and we managed to find details of one of our colleague's relatives. Our plan is to publish a book towards the end of the year with all the names and details of those that died during the war."
The Roll of Honour work is ongoing and any new resources that come to light will be researched and added to the record.
Cllr Mary Martin, Swindon Borough Council's Cabinet Member for Communities and Place, said: "I would like to thank Katherine and the Local Studies team for their dedication in putting together what will be a fitting tribute to Swindon's war dead.
"An enormous amount of research has gone into this project, which we think is the only Roll of Honour for the Second World War to have been put together in Swindon, and I can't wait to see it in book format."
There is still time for people to add family members or people that they know to the Roll of Honour, although the closing date for submission is next Friday (20 Oct). The only criteria is that the person must have been from the Swindon area and was either killed, a prisoner of war or who received a gallantry award between1939 and 1945.
The Local Studies team is located on the Second Floor of the Central Library. To contact the team either visit them at the library or email: localstudies@swindon.gov.uk