Communities
Sun shines down on Walcot community for special celebration event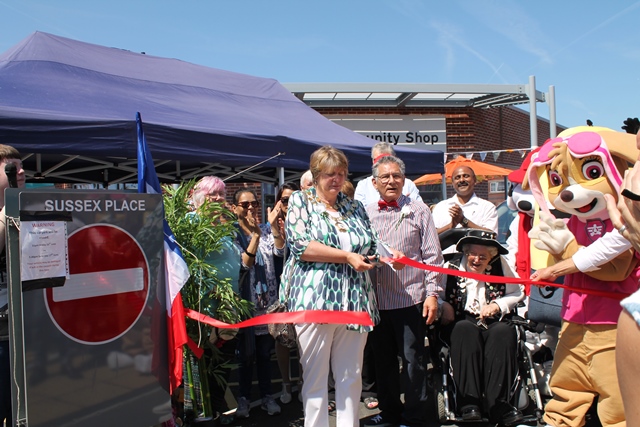 Swindon Mayor Cllr Maureen Penny cuts the ribbon to officially open Sussex Place
Saturday, 17 June 2017
Local residents and councillors basked in glorious sunshine in Walcot this morning for an extra special family fun day.
Swindon Mayor Cllr Maureen Penny officially opened the £10m Sussex Place regeneration scheme, which coincided with a Great Get Together event in memory of MP Jo Cox, who was killed on June 16 last year.
The Walcot Family Fun Day was organised by Walcot Charity Shop director Sue Martin and Swindon councillor Derique Montaut.
Fellow councillors Abdul Amin and Bob Wright, Council Leader Cllr David Renard and the Council's Cabinet Member for Housing and Public Safety, Cllr Cathy Martyn, also joined in the celebrations.
The family fun day, which was held in the car park of the Sussex Place shopping area, featured a children's entertainer, games, Irish dancing, Nepalese singing and dancing, face painting, Indian entertainment, fishing for ducks stall and a number of stalls.
The event was supported by Swindon 105.5 community radio, Christians Against Poverty, the Alzheimer's Society, Swindon Borough Council's Housing and Homeline teams and the emergency services.
Funds raised from the day will go to the British Red Cross' UK Solidarity Fund to help victims of terrorist attacks anywhere in the UK.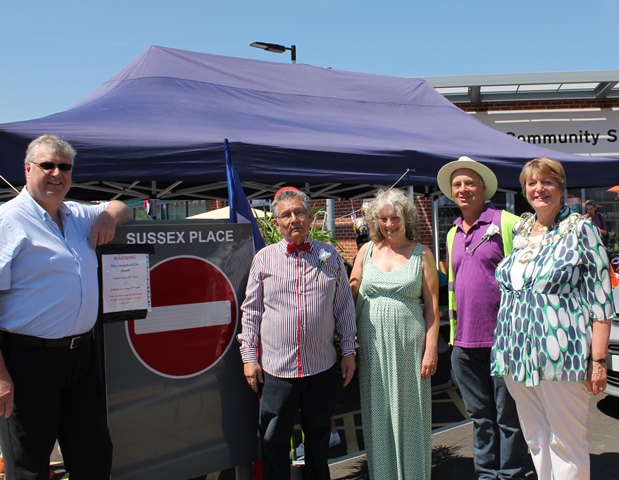 (left to right) Council Leader Cllr David Renard with Cllr Derique Montaut, Cabinet Member for Housing and Public Safety Cllr Cathy Martyn, Cllr Bob Wright and Swindon Mayor Cllr Maureen Penny at the official opening of Sussex Place and the Walcot Family Fun Day
Cllr Penny called on the assembled crowd to observe a minute's silence in memory for the former MP who was the inspiration for Great Get Together events across the country.
Welcoming everyone to the family celebration, Cllr Penny said: "This £10m development of 38 new homes for rent and 10 for low cost home ownership is the culmination of many years' hard work.
"The old Sussex Square was chosen for demolition because of its poor design. The shopping precinct had lots of empty units, and the maisonettes above were unpopular with families.
"The new shops are more welcoming and much easier to access, so they get passing trade. The new houses are built larger than average to make great family homes, they look great and they are cheaper to run. The Council is proud of these new homes, and we hope that the residents come to love them too."