Communities
Swindon Circles links up older people with friendly volunteers to make a big difference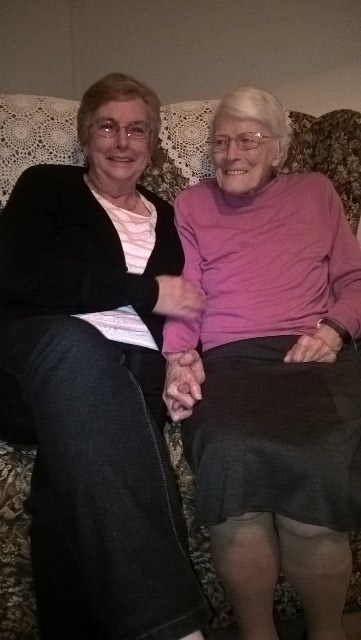 Gladys Whiting and Carole Sawyer catch up on news
Wednesday 17 May 2017
Want to help out in the community? Looking for something to fill your spare time helping others? Swindon Circles is looking for people who have a bit of spare time to help older people in Swindon who appreciate a bit of company.
The group, run by the Community Health and Wellbeing Team at Swindon Borough Council, is seeking volunteers who can support elderly Swindon residents who love a bit of companionship to brighten up their day.
Currently, nearly 90 volunteers are supporting over 100 elderly people right across the Borough in a variety of ways to provide them with a friendly face and a chance to keep in touch with the life of the Swindon community.
Volunteering is known to benefit people's wellbeing by increasing confidence and learning new skills, and in the case of Swindon Circles, local volunteers take time out for social befriending, keeping loneliness and isolation at bay amongst Swindon's older population, and making a massive difference to their lives.
Swindon Circles is all about helping senior citizens keep active mentally and physically and signposting them to services that help them with daily life and tackle problems, to keep them living safely and independently.
Since the project began, lots of strong and lasting friendships have been forged between the volunteers and their Swindon Circles hosts. Visits can be just a short time once a week or for several times. The role is flexible, to fit around the volunteers lifestyle and designed to fit around each volunteer individually.
Anyone signing up for Swindon Circles receives training and support from the Council's Health & Wellbeing team.
Typical Swindon Circles friends are Carole Sawyer and her client Gladys Whiting who is 97, who have been meeting up for almost a year.
Carole said "I joined Swindon Circles last July. I had been looking after my grandchildren but they were now all at school and I wanted to do something useful with my time. Joining Swindon Circles was one of the best things I could have done, I have met a lovely lady, we get along very well, we have lots of laughs, cups of tea and sometimes go out and about shopping. I feel as though I have known Gladys all my life and we have become firm friends.
"I am thrilled that after a hesitant start that I decided to volunteer and start visiting as it has been as beneficial for me as it has for Gladys. If anyone is looking to fill an hour or two a week I would thoroughly recommend joining Swindon Circles. It has been very rewarding.
Gladys, who will be 98 this month and lives alone, thinks Swindon Circles is wonderful.
She commented: "Meeting Carole has made a huge difference to me, our friendship is a lasting one. Meeting Swindon Circles and Carole was the best day's work I have done, we are friends for life."
Jenny Midwinter, The Council's Swindon Circles Link Worker, said: "Swindon Circles can make a huge impact on the lives of our older residents, offering them company, advice and companionship. We ensure we match our friendly volunteers with compatible older people who appreciate some company, and whether you can manage just one visit a week or several, we can use your time and no help is too little.
"For anyone wanting to find out more about how they can help is welcome to come along to one of our drop-in sessions where our friendly staff will be on hand to talk to anyone interested in finding our more about volunteering,
"What the sessions will do is make clear that this role is flexible and can fit around the volunteers. Contact Live Well Swindon to find out more on 01793 465513, email us at livewell@swindon.gov.uk, or check out ourwebsite: www.swindon.gov.uk/healthandwellbeing ."
Anyone wanting to meet the team and find out if volunteering for Swindon Circles would suit them is encouraged drop-in to one of these sessions
· Wednesday 17th May: 12 noon till 2pm- Central Library, Swindon Town Centre, Regent Circus, Swindon SN1 1QG
· Friday 19th May: 3pm- 6pm- West Swindon Library, Swindon SN5 7DL
· Saturday 20th May: 10am- 1pm- Wroughton Library,
· Monday 22nd May: 3pm- 6pm- North Library
· Tuesday 23rd May: 10am- 12 noon- Parks Library
· Thursday 25th May: 10am- 12 noon- Highworth