Communities
Swindon Trading Standards target rogue traders as part of national campaign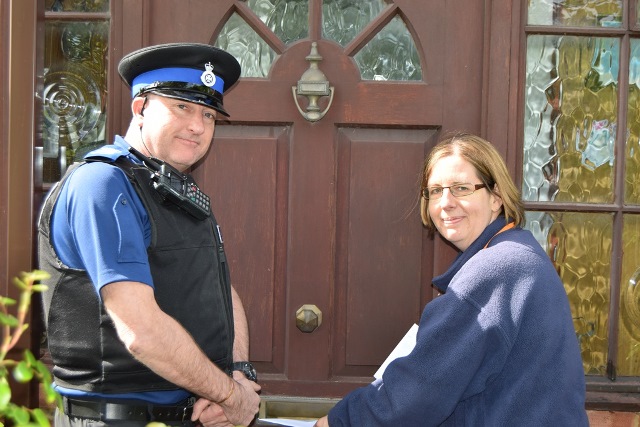 PCSO Jeremy Marsh with Carla Baker, Swindon Borough Council's Senior Advice and Education Officer, during Operation Rogue Trader
Friday, 12 May 2017
Trading Standards officers from Swindon Borough Council teamed up with Wiltshire Police and other partnership agencies to target rogue traders and forceful doorstep sellers as part of a week-long crime prevention initiative.
The national Operation Rogue Trader campaign involved a week of action (Monday 8 May until Friday 12 May) from police forces and agencies across the UK, with a specific day of enforcement on Tuesday (9 May).
The Council's Trading Standards staff and officers from Wiltshire Police used Automatic Number Plate Recognition (ANPR) to carry out intelligence-led roadside stop checks of vehicles, as well as mobile patrols in order to engage with the public to offer advice and guidance around rogue trading in their specific area.
The operation took place across Wiltshire, and in Swindon Trading Standards officers issued trader advice to 10 businesses as well as one formal warning for not issuing the correct Notice of Right to Cancel, which gives a 14-day cooling off period as required by law.
For the financial year 1 April 2016 to 31 March 2017 Swindon Trading Standards received 167 reports of rogue trading incidents - an increase of 10 per cent on the previous year.
Thirty per cent of the rogue trader reports Swindon Trading Standards received were regarding roofing work, including guttering, roof cleaning and sealing. These incidents can range from replacing one single tile to completely replacing the roof.
Twenty-six per cent of the rogue trader reports received were of traders cold calling selling goods, including knives, mattresses and fish, while 18 per cent of reports were of driveway work including power washing, block paving and tarmacking.
The profile of the average rogue trader victim living in the Borough of Swindon is a 75-year-old female living alone that has not been a repeat victim of rogue trading.
Carla Baker, Swindon Borough Council's Senior Advice and Education Officer, said: "We take doorstep crime extremely seriously and Operation Rogue Trader gave us the opportunity to work with our partners to send a clear message to rogue traders that their activities will not be tolerated in Swindon.
"Rogue traders travel extensively throughout the country often preying on vulnerable people to offer services on the doorstep with a view to carrying out inadequate work for high prices, work which is often not required.
"During the operation we issued advice to 10 businesses and issued a formal warning to one business for not issuing the correct Notice of Right to Cancel, which gives a 14-day cooling off period as required by law.
"We recommend that people use approved traders from our Buy With Confidence scheme so they do not fall victim to rogue traders. For further information about Swindon Trading Standards and the Buy With Confidence scheme visit: www.swindon.gov.uk/tradingstandards"
Swindon Trading Standards can supply Swindon residents with a printed list of Buy with Confidence Members and a "No Cold Calling" door sticker which helps prevent cold callers. The team regularly post information packs through the doors of potentially vulnerable residents to try and stop people becoming victims of rogue traders.
Operation Rogue Trader is led by Operation Liberal, the national intelligence unit that links associated crimes and gathers intelligence on key nominals and organised crime groups who travel extensively throughout the UK.
Wiltshire Police's Head of Crime Prevention Superintendent Phil Staynings said: "I hope the day of action shows those who try to con the most vulnerable in our communities that we are out to stop them.
"This was a successful day of partnership working with other agencies all working together to educate traders working in Wiltshire and take action against those who weren't trading fairly.
"Positive feedback was received from a number of the legitimate traders stopped showing that our work is appreciated by consumers and genuine traders alike.
"We encourage anyone who is concerned about potential rogue traders to contact police and we will continue working closely with partners to help prevent rogue traders targeting vulnerable members of our communities."
Householders are asked to remember the following advice:
• Not sure? Don't open the door!
• Check the identity of the doorstep caller by telephoning the company they are purporting to be from. Use telephone numbers listed in your local directory or provided independently by your service provider.
• Check whether traders are members of the Consumer Codes Approval Scheme or the Government Trust Mark scheme.
• Discuss any work you feel needs carrying out on your property with a relative or friend who can help you find a reputable trader.
• Don't agree to any work or sign anything on the spot. Do not be pressured into having any work carried out.
• Never pay cash up front and never go to the bank or cash point with a trader.
• If you suspect a rogue trader is at your door then call 999.