Highways & Transport
Additional repairs identified on final phase of Akers Way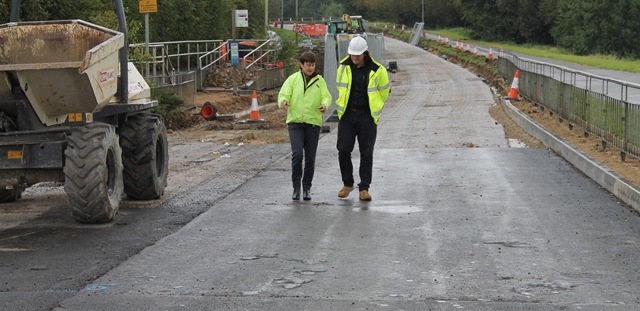 Highways Project Manager Tomasz Wysocki explains the nature of the additional repairs at Akers Way to Cllr Mary Martin, Swindon Borough Council's Cabinet Member for Communities and Place
Friday, 15 September 2017
Akers Way will be closed for several more weeks after a large number of additional defects were uncovered in the concrete road base.
The Council's contractor started work on the fifth and final phase of the scheme last week between Nova Hreod Academy and Cheney Manor Industrial Estate but, after taking off the asphalt road surface, the condition of the concrete base was in a much worse condition than originally envisaged.
In order to carry out the extra repairs, the road will remain closed to through traffic until the end of October, although access to Nova Hreod Academy will remain via the west section of Akers Way.
Residents living in Beaney View and Slade Street will have no access to Akers Way during the final phase. The bollards have been lifted between Slade Street and Bates Way to allow access from Moredon Road.
So far the Akers Way upgrade has seen the reconstruction of the majority of the mile-long carriageway, along with significant improvements to the existing on road and off road parking arrangements and a new and improved section of cycleway.
The Diversion route for the last phase of work will continue to be: Purton Road, Moredon Road, Cheney Manor Road and Akers Way.
The diversion route will continue to be clearly signed in both directions for the duration of the works.
The work on Akers Way is designed to address problems with the deteriorating concrete base of the road. A complex but cost-effective solution has been devised which combines modifications to the concrete road base slabs and includes a specially designed thicker road surfacing material layer on top.
The design will increase the flexibility of the road and provide a longer-lasting protective surface over the road structure below.
Cllr Mary Martin, Swindon Borough Council's Cabinet Member for Communities and Place, said: "This latest delay to the Akers Way improvements is frustrating for everyone concerned and it is a real shame the project has been beset by the same problems we encountered in the first phase.
"Unfortunately, the condition of the concrete road base, would only be truly revealed when the asphalt road surface was removed, allowing our engineers to examine it in much greater detail. These repairs are essential if we want to create a road surface that will last for many years to come.
"We asked the contractor to look at every possible option to minimise this delay, for example extended working and an increase in labour, but due to the nature of the work the newly laid concrete requires seven days to cure before it can withstand heavy plant vehicles. This means the contractor can only operate on one lane at any time and leaves us with no way of accelerating the work.
"The patience shown by motorists, local residents, businesses and schools has been admirable and I would just urge everyone to bear with us while we get over this final hurdle."
Regular updates on the progress of the final stage of improvements will be publicised through the Council's fortnightly Highways News e-newsletter www.swindon.gov.uk/newsletter
Further information about the scheme can be found at: www.swindon.gov.uk/akersway