Highways & Transport
Akers Way improvements progressing well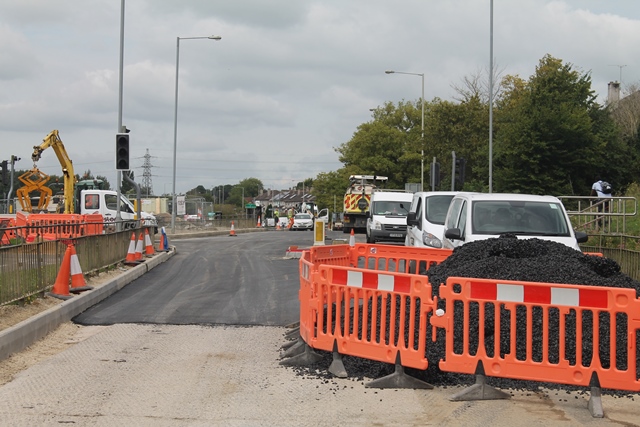 Akers Way improvements are progressing well
21 August 2017
The work to reconstruct Akers Way is progressing well and the contractor delivering the project on behalf of Swindon Borough Council will begin the final phase in a fortnight's time.
As planned, phase 3 and 4 of the work will be partially complete by Thursday (24 August) to give pupils' access to Nova Hreod Academy so that they are able to pick up their GCSE results. Vehicles will be allowed access from the east along Akers Way, travelling from Darby Close to Nova Hreod Academy.
The contractor will then begin the final phase between Nova Hreod Academy and Cheney Manor Industrial Estate Road on Monday, 4 September. Residents living in Beaney View and Slade Street will have no access to Akers Way during this phase, but the bollards will be lifted between Slade Street and Bates Way to allow access from Moredon Road.
The entire project is due to be completed by the end of September.

Motorists are encouraged to allow extra time for their journeys as there may be some congestion around these areas throughout the work, particularly when the new school term starts in two weeks' time.
The improvements being made to Akers Way, which have been split up into five phases, are designed to address problems with the deteriorating concrete base of the road. This is a complex but cost-effective solution which incorporates modifications to the concrete road base slabs and a specifically designed thicker road surfacing material layer on top.
The design will increase the flexibility of the road and provide a longer-lasting protecting surface over the road structure below. Improvements will also be made to the parking along the road.
Cllr Mary Martin, Swindon Borough Council's Cabinet Member for Communities and Place, said: "The improvements to Akers Way are really beginning to take shape and I am pleased we will shortly be entering the final phase of the work. Our contractor has made good progress over the summer months and it is good news that the Nova Hreod junction will be open for the exam results as planned.
"The quieter summer period has improved traffic flow on the official diversion route but, with the new school term fast approaching, there is likely to be more congestion in the area and I would encourage motorists to bear this in mind as we enter the last few weeks of the road improvement scheme."
Regular updates on the road improvement scheme will be publicised through the Council's fortnightly Highways News e-newsletter www.swindon.gov.uk/newsletter
Further information about the scheme can be found at: www.swindon.gov.uk/akersway