Highways & Transport
Police warn drivers to back off cyclists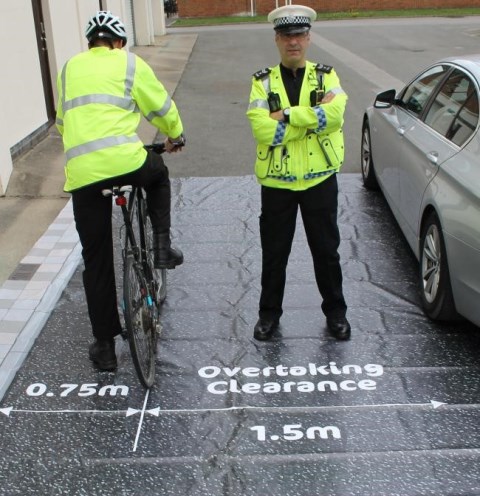 Policeman demonstrates safe overtaking distance
02 August 2017
On 28 July 2017, six people were stopped by police in Swindon in a crackdown on motorists driving too close to cyclists.
Operation Close Pass saw officers from Wiltshire Police erect a small display at the County Ground designed to educate drivers who had been seen not keeping a safe distance from cyclists.
One officer cycled up and down County Road while spotters kept an eye out for drivers not adhering to the recommended overtaking distance of 1.5 meters.
Sgt Warren Knight, the Tri Force specialist operations officer has been the driving force behind the operation, said: "We are on one of the main commuter routes this morning as part of an operation, taking place throughout the summer, to remind people to think about other road users.
"We are not here just to target motorists, but to encourage people to get used to sharing the road space."
In 2015, 18,844 cyclists were injured in reported road traffic collisions which included 3,289 who were killed or seriously injured in Britain.
Sgt Knight said: "Feedback in general has been quite positive. Most motorists are not aware of how close they can come to hitting cyclists when they pass and people are generally quite happy to be reminded about safety."
Drivers who were spotted driving too close were escorted into the County Ground car park where officers presented them with safety information and showed them, via the makeshift display, how they should pass cyclists in a safe manner.
Wiltshire and Swindon's Police and Crime Commissioner Angus Macpherson also came along to watch the operation, which received the full support of Swindon Borough Council.
Jane Deeley, the Council's road safety officer, said: "We were really pleased to support Wiltshire Police's operation and be able to educate motorists about the need to take extra care when overtaking cyclists, motorcyclists and even horse riders.
"Many road traffic collisions could easily be avoided if all road users looked properly and correctly judged other people's path or speed."
For more information, log on to www.cyclesmarter.co.uk