Highways & Transport
Third phase of Akers Way reconstruction to start next week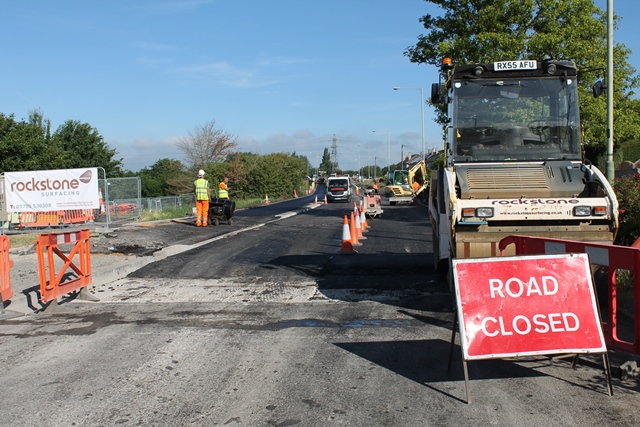 Work will start on phase three of the Akers Way reconstruction on Monday (10 July)
Friday, 7 July 2017
Phase three of the work to reconstruct Akers Way will start on Monday (10 July) following the successful completion of the latest section of carriageway.
For the last four weeks, the contractor delivering the project on behalf of Swindon Borough Council has been working to improve a 200m section of the road between the Purton Road roundabout and Nova Hreod Academy.
The first phase of the road improvements involved the section of road between St Mary's Church Roundabout and Cheney Manor industrial estate.
During the latest stage the road surface and adjacent pedestrian cycle-path has been considerably improved, while new kerbs and parking overrun strips have been installed. This will continue on the next phase which will include a 280-metre section of the road up to the Nova Hreod Academy junction.
There will be some work taking place along Akers Way towards Beaney View but access will be maintained for residents and Nova Hreod Academy. The contractor will be looking to make some additional areas available for residents' parking.
The Diversion route for the remaining phases of work at Akers Way will be: Purton Road, Moredon Road, Cheney Manor Road and Akers Way. Access will be maintained for local residents and the school during these phases.
The diversion route will continue to be clearly signed in both directions for the duration of the works.
During the works there may be some congestion, so motorists should allow extra time for their journeys through this area.
The work on Akers Way, which has been split up into five phases, is designed to address problems with the deteriorating concrete base of the road. A complex but cost-effective solution has been devised which combines modifications to the concrete road base slabs and includes a specially designed thicker road surfacing material layer on top.
The design will increase the flexibility of the road and provide a longer-lasting protective surface over the road structure below. The contractor will also be carrying out improvements to the parking along the road.
Cllr Mary Martin, Swindon Borough Council's Cabinet Member for Communities and Place, said: "The improvements to Akers Way are really beginning to take shape and I would like to thank residents and drivers once again for their patience while these much-needed works take place. I appreciate the works are causing great inconvenience to people, but the brand new road surface will make a big difference to road users.
"We are approaching the summer holidays when traffic levels will be lighter during peak periods, but I would still encourage motorists to leave extra time for journeys where possible."
Regular updates on the road improvement scheme will be publicised through the Council's fortnightly Highways News e-newsletter www.swindon.gov.uk/newsletter
Further information about the scheme can be found at: www.swindon.gov.uk/akersway