Highways & Transport
Swindon Borough Council Leader inspects Council's new trial electric vehicle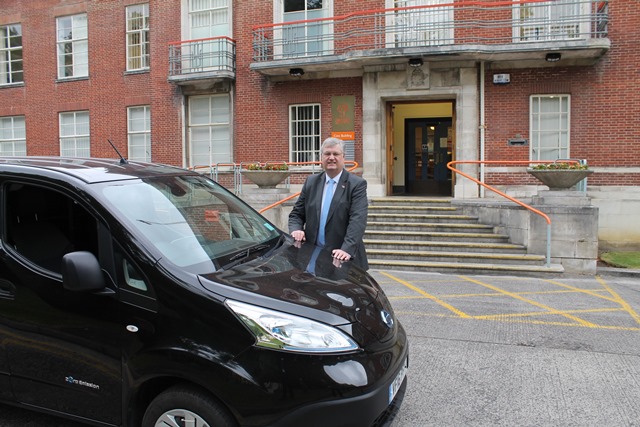 Swindon Borough Council Leader inspects Council's new trial electric vehicle
30 June 2017
The Leader of the Council, Cllr David Renard, has taken time out to inspect Swindon Borough Council's new trial electric vehicle today.
The vehicle, a Nissan E-NV200 electric demo vehicle, is being loaned to the Council to be put through its paces and establish whether electric vehicles can have future use for the Council.
SBC currently operates a vehicle fleet of circa 350 vehicles which support a wide range of public services. Approximately 150 of these vehicles are vans, with over half of these used within Property Maintenance and Repairs.
As part of a review of the Council's vehicle fleet, the feasibility is being explored of incorporating alternatively fuelled vehicles, in particular Electric Vehicles (EV) as part of this strategy.
The free one month trial of the vehicle begins this week, courtesy of Nissan. The vehicle will be used by the Council's Housing Repairs Team.
After a test drive, Cllr Renard said: "I am very impressed by the new vehicle. It is light on the controls and nippy, and definitely represents the future. Anything that potentially improves the service we provide to Swindon's residents and reduces costs is an advantage. I look forward to hearing how the trial goes."
Cllr Renard is pictured with the new trial vehicle.