Highways & Transport
First phase of Akers Way reconstruction now complete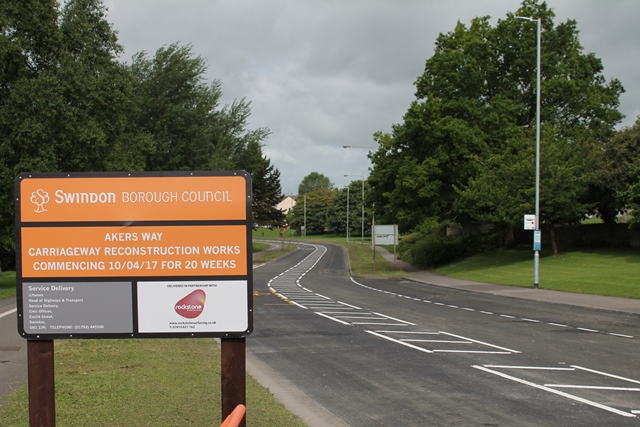 The first phase of the Akers Way reconstruction is now complete
Friday, 9 June 2017
Akers Way has temporarily reopened to all traffic this evening (9 June) and a brand new section of carriageway has been unveiled.
The mile-long stretch of road has been closed for several weeks between St Mary's Church roundabout and Cheney Manor industrial estate to allow the road to be reconstructed.
The contractor acting on behalf of Swindon Borough Council has spent the last week surfacing the road and completing the final sealing and lining work. The specially designed thicker road surfacing material used on Akers Way will provide a long-lasting protective surface over the road structure below.
The road has reopened to allow the roundabout outside Farm Foods, at the junction with Moredon Road, Whitworth Road, Cheney Manor Road and The Broadway, to be resurfaced over the weekend (10 and 11 June).
Although Akers Way will be open throughout the weekend, motorists are advised that the second phase of the work will begin on Monday (12 June). This will affect a 200-metre section between the Purton Road roundabout and Nova Hreod Academy. During this work, Akers Way will be closed in both directions.
The diversion route for phase two will be: Purton Road, Moredon Road, Cheney Manor Road and Akers Way. Access to the Nova Hreod Academy junction will be maintained during this phase from the east only.
The Council has notified local residents, schools and businesses advising them of the next phase of work and motorists should allow extra time for their journeys or seek an alternative route during this time.
To reduce the impact on Moredon Road, hauliers and businesses serving Cheney Manor Industrial Estate are being asked to avoid the Moredon Road diversion and seek a suitable alternative route.
Further information about the work is available via: www.swindon.gov.uk/akersway