Highways & Transport
Junction 16 upgrade taking shape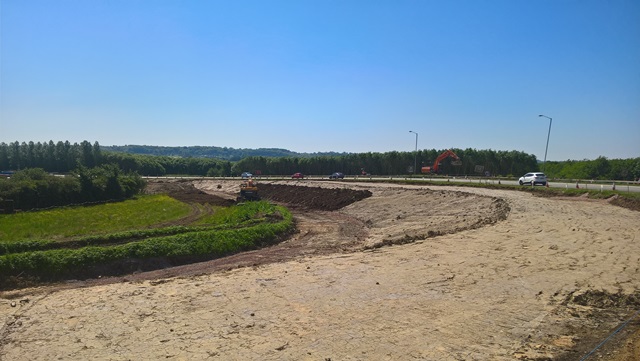 The upgrade of Junction 16 is currently on track
Friday, 9 June 2017
A hundred thousand tonnes of clay needed to raise the level of Junction 16 of the M4 to increase the road layout is almost in place.

A variety of improvement works such as drainage and earthworks are continuing on the south of the roundabout, along Hay Lane to Swindon Road and between Swindon Road and the Westbound M4 entry slip road.

Earthworks are now underway on the north side of the roundabout and the drainage work will start over the next few weeks. BT are continuing with utility works at the entrance to Upper Studley Farm and near the M4 Eastbound exit slip road.

The progress made so far at Junction 16 has been good. The drainage and sub-base works are currently underway and a number of the utility diversions have been completed. The next steps are to complete the utility diversions, which include BT, Vodafone and SSE; and to continue building and shaping the additional road space. The contractor, HOCHTIEF (UK) Construction Ltd, remain on track to finish by Spring 2018.

The motorway junction improvements will start to have a more significant impact on traffic in the coming weeks. Motorists will be kept updated of any impact on their journeys.
The £11.5m upgrade of Junction 16 will ensure it can cope with forecast future traffic levels and cater for future development in the surrounding areas, including the nearby Wichelstowe development which will see thousands of new homes built over the next few years.

The improvements are being funded by Swindon and Wiltshire Local Enterprise Partnership and Swindon Borough Council as part of the Wichelstowe development. It is being delivered by Swindon Borough Council in partnership with Highways England and Wiltshire Council.
Visit www.swindon.gov.uk/junction16 for more information.