Highways & Transport
Treacherous driving conditions expected despite gritting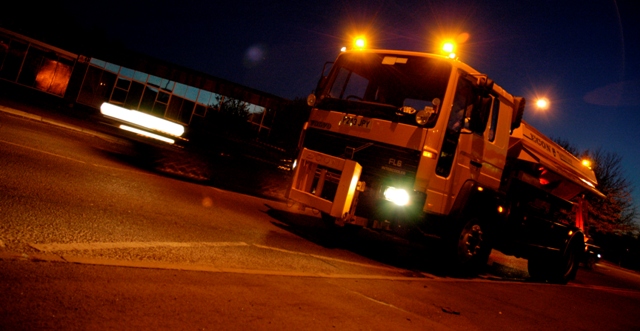 Gritters will be treating the Borough's roads for the second time today later this evening
Monday, 11 December 2017
Motorists are being warned to drive with extreme caution tomorrow morning with temperatures as low as minus nine degrees being forecasted for Swindon overnight.
Swindon Borough Council's gritting crews are due to complete two treatments of the Borough's roads today but, despite this, some roads could still be icy first thing in the morning (12 Dec).
Drivers are therefore asked to drive slowly, approach junctions with care and to allow extra time for their journeys into work. As temperatures warm up throughout the morning the conditions should improve, so delaying non-essential journeys where possible will also help.
Cllr Mary Martin, Swindon Borough Council's Cabinet Member for Communities and Place, said: "At temperatures of minus nine even the maximum salt levels put on the road network will begin to freeze. This is also further complicated by the amount of moisture and slush on the roads at the moment which can effectively dilute the salt solution.
"Even during less extreme conditions, salt will only help to prevent the build-up of ice so with conditions that we're likely to see overnight it is imperative that drivers are extremely careful on their journeys tomorrow morning. Despite all the salt the teams have put on the roads, there will still be ice in places.
"The gritting team will continue to monitor the weather throughout the night to respond to any changes in the forecast."
This morning the Council's gritting team completed runs on the highway network and were out hand gritting the areas outside of shopping precincts such as Rodbourne Road, Clive Parade, Blair Parade, Penhill shops and the town centre and some of the steeper hill routes.
All of the Council's waste and recycling crews were out collecting refuse today, but some were following different routes to usual. Residents are advised to still ensure all bins or boxes are placed out for collection by 6.30am on their collection day as the teams will make every effort to get round.
If any bins or boxes are not emptied they should be left out and the Council's crews will endeavour to empty them before the next scheduled collection date. Up-to-date information on waste and recycling collections is available via the Council's website.
The Council has also taken the decision to cancel its education transport service tomorrow on safety grounds. Passenger transport contractors and schools have been notified.
Parents are advised to check school websites and listen to local radio stations for information on school closures.
Further information about road gritting can be found at: www.swindon.gov.uk/roadgritting Gritting updates will be available throughout the day on the Council's Twitter (@swindonnews) and Facebook (@SwindonBoroughCouncil) pages.