Highways & Transport
Motorists urged to take extra care on the Borough's roads following snowfall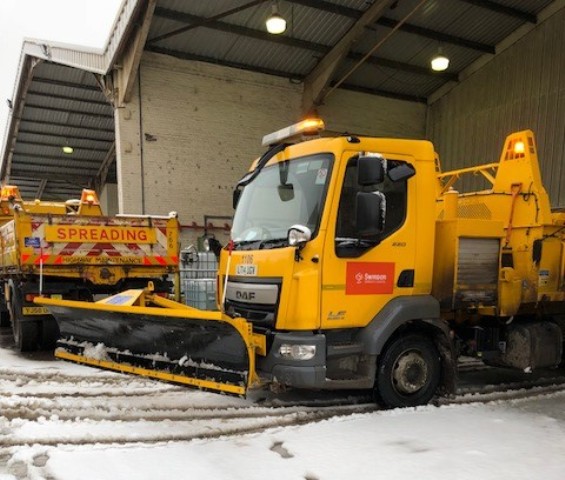 The Council's snow ploughs are currently out on the Borough's main arterial routes
Sunday, 10 December 2017
Motorists are being advised to avoid hills and to drive with caution after three inches of snow fell over Swindon this morning.
The Council's gritting team treated the rural roads (twice) and the main Borough road network last night following a change in the forecast from the Met Office.
Roads in Swindon town centre are passable with care, but hills in the Borough should be avoided until they have received further treatment.
Drivers have recently left the Council's depot to plough the main arterial routes through the town.
Zoe Moore, Swindon Borough Council's Service Manager for Highways Maintenance, said: "Our staff are working hard to keep the roads as clear as possible in challenging conditions. I would urge anyone using the road network today to drive with caution.
"Our gritting team are currently out on the network with snow ploughs and they will be out on the road network later today to apply more salt to the roads.
"Once the salt in on the ground, it needs to be driven on to enable the salt to turn to a saline solution. This will then encourage the thaw of ice and snow. This is why it appears that the roads haven't been treated. Once the network is busier, the main roads will start to clear."
The Met Office's latest forecast shows that Swindon has had the worst of the weather, but more snow could fall this afternoon with a cold night and the odd flurry.