Highways & Transport
Second phase of Mannington Roundabout improvements to start off-peak on Monday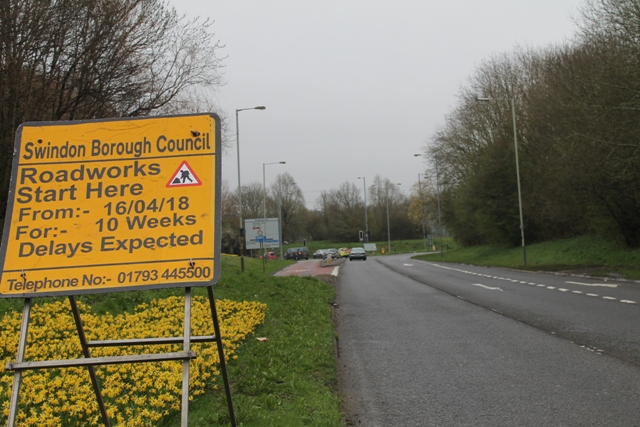 The second phase of work to help ease congestion at Mannington Roundabout will start on Monday (16 April)
Wednesday, 11 April 2018
The second phase of a scheme to alleviate congestion at a busy junction will start next week during off-peak hours.
Improvements are being made to Mannington Roundabout to allow traffic to move more freely, especially at peak times.
The roundabout upgrade is being funded by Swindon and Wiltshire Local Enterprise Partnership as part of a wider package of measures to improve Swindon's road network. The £3.2m programme of work includes the scheme to deliver a Quality Bus Corridor between Wichelstowe and the town centre.
The first phase of the improvements has already been completed with the successful removal of the Wootton Bassett Road bus lane between Mannington Roundabout and the railway bridge, while motorists may have noticed the removal of vegetation close to the Mannington Retail Park which had to be completed before the start of the bird nesting season.
On Monday (16 April), the second phase of work will begin on the Tewkesbury Way approach to the roundabout. This will involve the relocation of BT cables and the removal of the traffic island which currently separates the bus lane from the rest of the traffic. In order to keep disruption to a minimum the work is taking place now that the majority of the multi-million pound upgrade of Junction 16 of the M4 has taken place.
Once the traffic island is removed, the bus lane will be shortened, providing additional stacking space for motorists on the approach to the roundabout and reducing queuing along Tewkesbury Way. The whole eastbound carriageway will also be resurfaced between the roundabout and the start of the bus lane.
It is anticipated the work, which will take place between 9.30am and 3.30pm, will take up to 10 weeks to complete and drivers are asked to allow a little extra time for their journeys.
The third phase of improvements is planned to take place during the summer and will see changes made to the Fish Brothers section of the roundabout in order to improve the traffic flow from Great Western Way into Wootton Bassett Road. Further details of the work will be available in the coming months.
The final phase of work will be based at the Mannington Retail Park and is anticipated to begin next January after the main Christmas and New Year period has finished. A new merging on-slip lane will be created from the retail park onto Great Western Way to reduce the amount of traffic using Mannington Roundabout.
The slip lane into the retail park will also be extended, providing extra queuing capacity at busy times and the road within the retail park will be widened and the entrances and exits to the car parks will be improved. New traffic signs will be provided, to make the internal traffic flow much simpler and more effective, reducing potential queuing back out onto Great Western Way at busy periods.
Regular updates on the work will be available in the Council's Highways News e-newsletter which is available via: www.swindon.gov.uk/newsletter and further information on the project can be found at: www.swindon.gov.uk/mannington