Economy & Regeneration
Brunel's drawing instruments join STEAM collection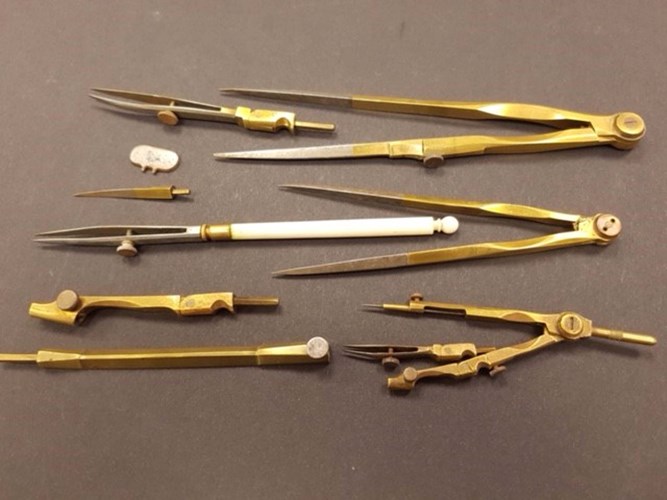 3 April 2018
A set of Isambard Kingdom Brunel's technical drawing instruments has recently been acquired at auction by STEAM – Museum of the Great Western Railway.
The set is contained in an oak case inlaid with a brass plate inscribed "I K BRUNEL".
The inside is lined with purple velvet and has individual compartments for each instrument.
STEAM's curator, Frances Yeo, said: "We are very excited to have purchased this set of drawing instruments at auction. This has been made possible by a generous contribution from the Friends of Swindon Railway Museum together with visitor donations to STEAM's Acquisition Fund.
"Owned by Isambard Kingdom Brunel, the size of the set suggests these may have been instruments he took with him when he travelled across the GWR railway network.
"These instruments have an excellent provenance, having been given to the seller's grandfather by Brunel's son Henry Marc Brunel in 1902.
"As possibly the greatest engineer of all time, these drawing instruments were the tools of Brunel's trade. He was instrumental in the development of the GWR and the building of 'New Swindon'. We have a number of signed Brunel engineering drawings within the STEAM collections, which may have been drawn using these very same instruments.
"We are very grateful for the support of the Friends of Swindon Railway Museum and to the visitors who kindly made donations. This is an especially important acquisition for STEAM."
The Brunel instruments are now on display at the Swindon Borough Council-owned museum in the Brunel Case in the museum's 'Building the Railway' exhibition area.
The new Brunel acquisition is just one of many reasons to visit STEAM as the museum has two new special exhibitions: 'The Art of Publicity' and 'The GWR Publicity Machine'.
Celebrating the world-famous advertising campaigns and publicity materials created by the GWR, these unique displays are open every day and included with STEAM admission and season tickets (which pay for themselves in two visits and last a whole year).
Family activities for the Easter holidays include new drop-in Thursday sessions - following the theme of the exhibitions - plus new seasonal trails exploring Clocks and Time.
STEAM is open every day from Monday to Saturday between 10am and 5pm, and on Sundays between 11am and 4pm.
To find out more, visit www.steam-museum.org.uk or follow STEAM on Facebook (@SteamMuseum) and Twitter (@Steam_Museum). You can call the museum on 01793 466646.