Council & Democracy
Residents asked to look out for poll cards as countdown to Voter ID pilot begins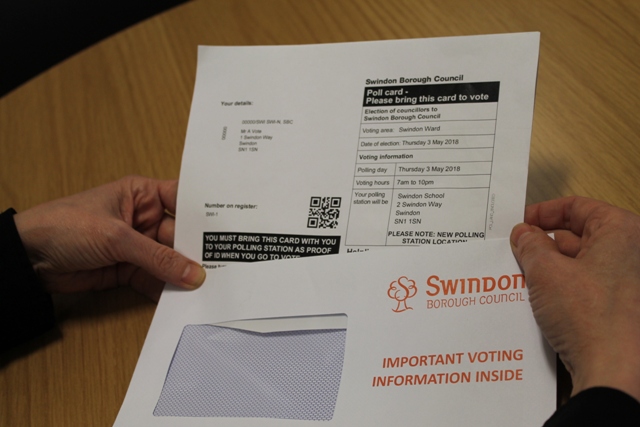 Poll cards with barcodes unique to the registered voter will start to be delivered in Swindon ahead of the local election on 3 May
Thursday, 29 March 2018
With exactly a month to go before the local elections, Swindon residents are being asked to watch out for their poll cards which will shortly start to drop through letter boxes across the borough.
Residents will need their poll card to vote at the elections on 3 May as Swindon is taking part in the Government's Voter ID pilot scheme, which aims to reduce voter fraud by asking voters to present a form of identification before voting.
Swindon is one of five local authorities piloting the scheme. If the scheme is successful, it may be rolled out nationally.
Swindon residents who are voting at a polling station will receive their poll card hand-delivered by 26 April.
The poll card is the quickest and most convenient method of voting. This is because the poll card contains a barcode which is unique to the individual.
At the polling station, a voter will hand over their poll card to the clerk. The clerk will then scan the poll card and ask the voter to confirm their name address. The voter will then be issued a ballot paper and be instructed to place their vote for one candidate only.
For more information about the pilot and the identification required, visit: www.swindon/gov.uk/VoterID
Voters are also reminded that the last day to register to vote in the elections on 3 May is Tuesday, 17 April 2018.
Electoral Services Manager, Sally Sprason, said: "It is really important that Swindon residents remember to bring their poll card with them on 3 May to enable them to vote.
"The barcode on the new poll card makes voting more secure and the process much more efficient. The Council has already sent out letters to every household in Swindon where residents are registered to vote, alerting them of the need to have their poll cards ready for 3 May.
"There will be a whole range of promotional activity taking place over the next few weeks to remind people. We'd also encourage residents to spread the word amongst their families, friends and neighbours."