Children's Services
Council employee and his guide dog finalists for coveted national award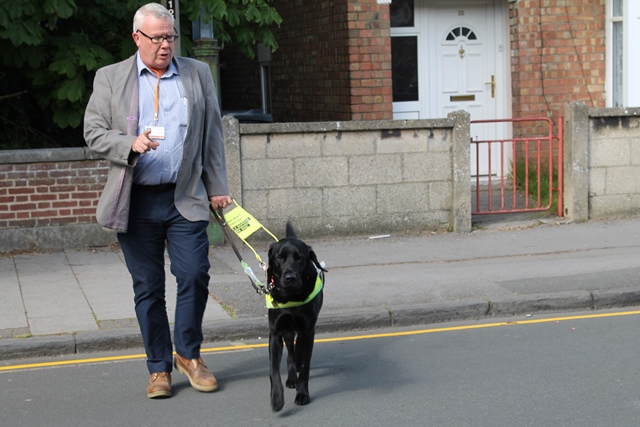 Jez Fletcher with Quest
Tuesday, 9 May 2017
Swindon Borough Council employee, Jeremy Fletcher and guide dog Quest, have been shortlisted for the Beyond the Call of Duty Award at this year's national Guide Dogs Annual Awards.

Jeremy (Jez) and his guide dog Quest have only been together a short time, but the bond they have is so strong and goes beyond a normal guide dog and owner relationship.

Due to his work as an experienced senior child protection manager, Jez often has to travel the country and Quest is always found by his side. Not only guiding him, but working as a calming influence in highly emotional situations.

When he is working with children in very stressful and upsetting situations, it can be quite challenging and this is where Quest comes in. Quest has become so much more than a guide dog, he has a calming presence with children and parents, meaning hostile situations are defused and it is easier for Jez to do his job.

However, it didn't come easy for Jez to admit he needed a guide dog. He is fiercely independent and for years he refused to use his white cane. He just powered through and got on with his career and family life.

He changed his mind when he became relentlessly tired from being hyper vigilant and getting constantly confused. He has now been with Quest since December 2015.
Jez said: "Some years ago I sponsored a guide dog, but it was not something that I had ever thought about getting myself, even though my sight has been an issue for a few years.
"There is a difference between putting off [getting a guide dog] and being ready. It is incredibly hard work trying to juggle the responsibilities of full time work and the responsibility you have to your guide dog. I rarely get breaks at work for me - any free time that I get is about quality exercise time for Quest.
"It is totally worth it but to get the best you have to give a lot. A guide dog's dedication to its owner can be incredible but it has to be earned!
"Quest has helped me to maintain complete independence practically, financially and socially. He provides other people with a visual clue that I have a disability that cannot be seen.
"It means that as a very experienced child protection manager that I can continue to use my skills and experience to benefit some of the most vulnerable children and families."

On Wednesday, 17 May, as a finalist, Jez and Quest will be invited to the glamorous Guide Dogs Annual Award ceremony at The Hurlingham Club, London.
At what promises to be an inspirational evening, winners' stories will be brought to life and celebrated with some special performances, dancing and fundraising fun that will help raise vital funds for Guide Dogs' life changing work. Guests may also rub shoulders with a celebrity or two as well as meet adorable four-legged, guide dog heroes.
But on the night Jez will be bursting with pride that his best four-legged friend is getting the attention he deserves. He added: "I am very proud of Quest's achievements - he is incredible."

To view further information about the Guide Dogs Annual Awards 2017, visit: www.guidedogs.org.uk/awards