Economy & Regeneration
Economic report puts Swindon among the country's best towns and cities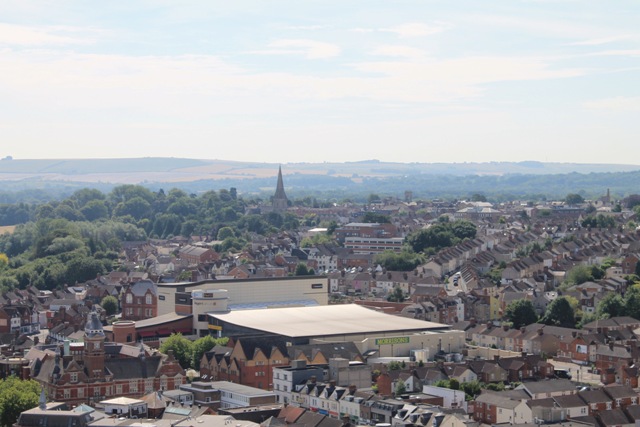 Swindon's economy compares very favourably with major towns and cities in the UK Picture: Lewis Moran
Monday, 29 January 2018
Swindon continues to have one of the best-performing economies in the country, according to a leading independent think tank.
The latest Centre for Cities Outlook report, published today, provides an annual economic performance index of the 63 largest cities and towns in the UK and shows that Swindon is ranked seventh in Britain when it comes to the rate of productivity per worker – up three places from a year ago.
Swindon's GVA (Gross Value Added) per worker is £59,500, higher than the national average of £56,600 and greater than that of cities such as Aberdeen, Portsmouth and Bristol.
Swindon is also outpointing many large towns and cities in terms of its employment rate. With an employment rate of 80.6 per cent, only Crawley (86.6 per cent) and Worthing (83.1 per cent) are ranked higher. The town's employment rate is also significantly higher than the national average of 74.2 per cent.
The continued high level of investment from private firms in the town has ensured that for each public sector job in Swindon, there are four private sector roles – the third highest rate in the country.
Skill levels are a key component of the success of a city economy, according to the Outlook report, and Swindon fares well in these indicators coming out with the fourth lowest percentage of residents with no formal qualifications (3.9 per cent). The national average is 8.3 per cent.
Although Swindon is ranked seventh for house price increases (8.2 per cent) the average price of a house in the Borough is still £54,800 lower than the national average.
Cllr David Renard, Leader of Swindon Borough Council, said: "These figures are hugely encouraging and it is great to see our town yet again posting such impressive economic figures.
"It is further evidence, if any were needed, that Swindon is a great place to do business, with a skilled workforce and house prices still significantly below the national average.
"The Centre for Cities report highlights how the economy is changing and of the need to be able to adapt to automation and new technologies. Swindon is ideally placed to respond to this challenge and has demonstrated this over many years. In fact I am confident that Swindon will continue to go from strength to strength."
Cllr Oliver Donachie, Swindon Borough Council's Cabinet Member for the Economy and Skills, said: "It is a real feather in our cap that Swindon is once again rubbing shoulders with some of the country's biggest towns and cities in these key economic indicators. To have the seventh most productive workforce in the country is a tremendous achievement, but when you look at the breadth of firms we have in the town, from our large major employers to a thriving SME sector, it is not surprising.
"We also have huge potential for growth with hundreds of digital micro businesses and, of course, large-scale development in the pipeline not to mention the huge regeneration plans to create a regional leisure destination at North Star.
"It was extremely pleasing to see the town faring well in terms of skills and our ability to attract people with the right skills to live and work here based on Swindon's affordability and quality of life gives us a distinct competitive advantage over other areas in the country.
"We are also working with Swindon and Wiltshire Local Enterprise Partnership and the education sector to make sure that we are producing people with the right skills to suit the changing job market. Education providers are already responding to this with the UTC introducing digital skills courses and we are working closely with businesses to ensure that they are able to influence curriculums and be involved in the skills agenda so we develop the workforce they need in the future."
The Centre for Cities Outlook report 2018 can be found here: http://www.centreforcities.org/publication/cities-outlook-2018/