Economy & Regeneration
Camera car to be brought into use by Council to ease parking woes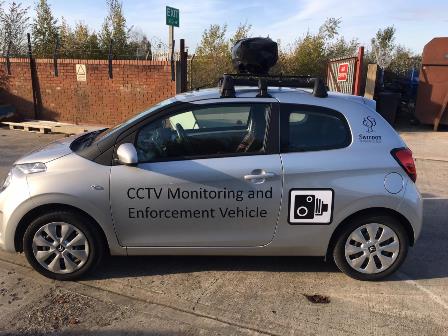 Monday 20 November 2017
Plans to clamp down on cars parked illegally outside schools will come into force from next week (27 Nov).
Swindon Borough Council will start using a camera car next week which will provide enforcement in "no stopping" zones outside schools following numerous complaints where the parking restrictions are in place.
The camera car will collect evidence of vehicles parking in restricted areas as it drives past, which will then be reviewed and a Penalty Charge Notice will be issued if a contravention is proved.
In order to provide a better service to residents living in resident parking zones the car will also allow the Council's parking team to monitor more streets in the same period of time.
It is hoped that the use of the car will ease frustrations among residents when drivers without a valid parking permit park in their spaces and there is no one to attend on site.
The car will identity those which do not have a valid permit as it drives through resident zones. An officer will then carry out a physical check before any Penalty Charge Notices are issued as the driver may have a valid visitor scratch card or blue badge.
The camera car, which is fitted with automatic number plate recognition technology, is on trial until May 2018. This initiative is not driven by income but the need to change behaviours of drivers around school locations and resident zones.
It is currently unclear how many additional parking tickets may be generated as this will be determined by the decisions taken by drivers. Any income generated will be used to contribute to the purchase of the vehicle and IT equipment if this is taken up after the trial.
Cllr Oliver Donachie, Swindon Borough Council's Cabinet Member for Economy and Skills, said: "We hope that this camera car will change attitudes among drivers, particularly around schools and in resident parking zones, while also easing frustrations among some residents.
"This initiative also supports the Council's vision toward a digital way of working as we'll be making better use of technology in order to work effectively and improve services for our residents as a result."
For more information about Camera Car Enforcement please see https://www.swindon.gov.uk/parking