Economy & Regeneration
Fuelling international relations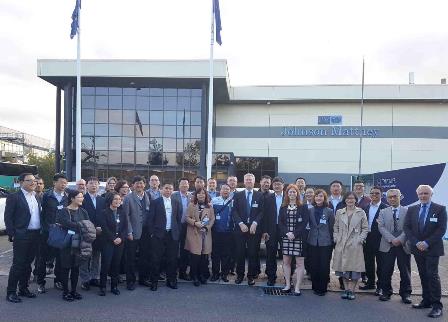 Friday 27 October 2017
When a delegation from the China EV100 forum arrived in Swindon this month, they were shown that Swindon has one of the most impressive and diverse business networks in the UK. In fact the perfect place to create links for trade, investment, research and innovation.
The 23 members of the delegation included Mr Liu Xiao Shi, Deputy Secretary General of China EV100, a forum aimed at boosting the development of the New Energy Vehicle industry. Other delegates came as representatives of significantly large companies such as Guangzhou Automobile Group Co., Ltd,, Zhejiang Wanma and Eakay Hi-Tech and Software Technology.
China EV100 is a forum aimed at boosting the development of the Electric Vehicle industry. It promotes multi-field fusion and collaborative innovation through research and exchanges, which break the limitations of departments, disciplines, ownership and the sector. Over 1,000 participants will be invited to China EV100 Annual Forum, which is held in Beijing Diaoyutai State Guesthouse.
Swindon Borough Council's Growth & Regeneration team met the delegation on Friday morning and took them to hear about Formula E racing cars at Williams Racing, Wantage. On arrival in Swindon the delegation toured Johnson Matthey Fuel Cells and heard about their pioneering work in fuel cell technology, with presentations from the Hydrogen Hub New Energy Vehicle Industry Forum and expert academics from Southampton and Bath Universities.
John Mortimer Chairman of Swindon and Wiltshire Local Enterprise Partnership said: Both China and the UK have committed to reducing the use of fossil fuel powered vehicles and aim to be world leaders in this field. Swindon and Wiltshire is well placed to respond to this opportunity, with its strong industrial heritage, automotive capability and innovative industry leaders. Swindon and Wiltshire warmly welcomes our new relationship with China EV100 and we look forward to working together to lead the New Energy Vehicle industry of the future."
The trip to the UK was arranged by the Department for International Trade and is seen as the first step in a programme to build strong trade and investment links with China EV100 in the New Energy Vehicle market.
Cllr Oliver Donachie, Cabinet Member for Economy and Skills, said: "China is a lucrative source of investment to the UK and this visit presented Swindon with a valuable opportunity to build links, which could attract significant future investment.
Swindon has a proud and strong heritage in engineering, especially in the motor industry, and this is something that the EV100 delegation will have identified with. During the visit we were consistently able to demonstrate why Swindon is recognised as the UK's 7th most investable town/city and ranked 5th in the 2017 UK Cities and Financial Powerhouse league table. I am looking forward to many more such visits and stronger business ties."
The Mayor of Swindon, Councillor Maureen Penny also hosted the delegation at a business dinner. Esteemed guests included Minister Counsellor Mr. Jin Xu of the Embassy of the People's Republic of China in the United Kingdom of Great Britain and Northern Ireland, who attended the dinner with his wife. The minister spoke passionately about building links between UK and Chinese businesses. The dinner was held at the Steam Museum, a venue that perfectly reminded the delegates of Swindon's rich industrial heritage.