Economy & Regeneration
LEGO® wonderland in store at STEAM's Great Western Brick Show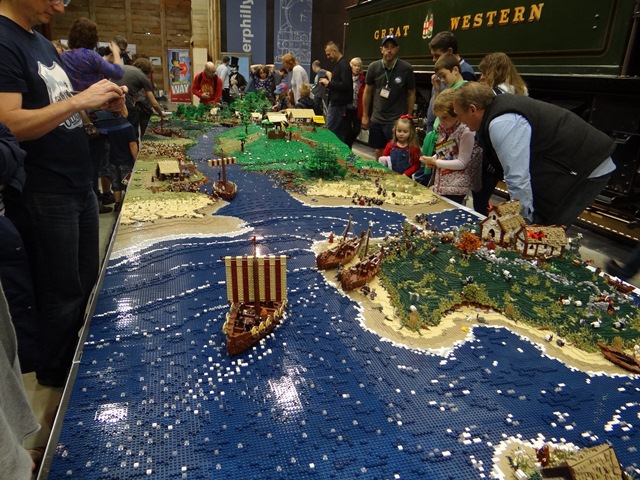 One of the displays at last year's Great Western Brick Show at STEAM
Tuesday, 3 October 2017
STEAM - Museum of the Great Western Railway has once again put the building blocks in place for a fantastic weekend's entertainment for all the family.
The LEGO® wonderland at Swindon's Great Western Brick Show takes place this Saturday (7 Oct) and Sunday (8 Oct) and has been organised in partnership with the Brickish Association, whose members work tirelessly in their spare time throughout the year, to create unique large-scale models and massive themed landscapes using the well-known toy bricks.
Most of the newly created giant models and displays at the Swindon Borough Council-owned museum are being kept under wraps for the show, though the organisers are giving away a few hints about what's in store.
Martin Long, President of the Brickish Association and co-organiser of the show said: "This event attracts visitors from all over the UK and our aim is always to inspire children and adult LEGO® fans to get building themselves.
"With this in mind, the weekend is packed with amazing displays and special activities, to get everyone involved. As seen on their Facebook page, the Bricks to the Past history group are back with an epic new model of the Scottish Highlands, depicting a battle scene between the redcoats and Jacobites.
"More gigantic displays will include scenes from 1980s action movies such as Predator, Aliens and Robo-Cop as well as from the classic sci-fi novel War of the Worlds.
"We can't wait to share the stunning creations that our designers have produced for this event – with many models on display for the very first time. As always, we can't give away too much about this year's models but the show will be full of surprises!"
The weekend will also include a giant LEGO® mosaic* that visitors can help build over the weekend, a LEGO® shop and market place and dramatic LEGO® robot wars tournaments.
Cllr Garry Perkins, Swindon Borough Council's Cabinet Member responsible for STEAM, said: "Celebrating the well-loved building bricks and the great World of Imagination, this show is a fantastic day out for all the family.
"There is so much to see and do. Visitors also get to enjoy the famous GWR locomotives and new 2017 exhibitions at STEAM – as the museum celebrates 90 years since No. 6000 King George V was built in Swindon."
Energy levels can be topped up at both the Brick Café and STEAM's Platform One Café with freshly made hot and cold refreshments.
Doors open between 10am and 5pm on both days and tickets are available on the day.
Prices are £10 for children (3-15 yearrs); £10 for seniors and £12 for adults.
Family tickets cost £30 (1 adult, 2 children); £32 (2 adults, 1 child); £40 (2 adults, 2 children) and £45 (2 adults, 3 children). Under threes go free.
STEAM Season Ticket holders receive a 10 per cent discount on tickets purchased directly from the Museum.
Advance tickets are available online at www.swindontickets.co.uk (booking fee applies).
For more information please visit the STEAM website at www.steam-museum.org.uk or the LEGO Show website at www.greatwesternbrickshow.com