Economy & Regeneration
Conference hears of ambition to make Swindon a hub for hydrogen fuel cell cars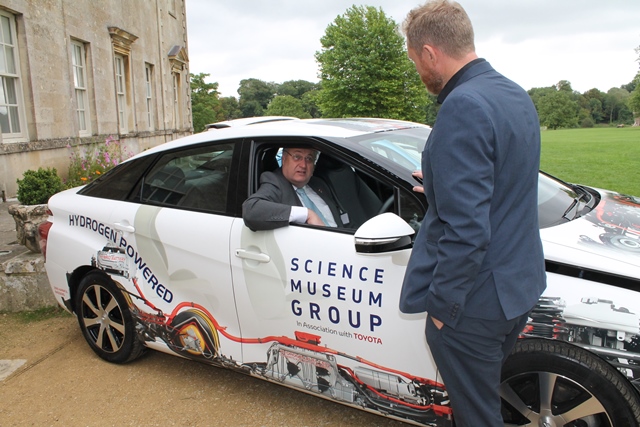 Council Leader David Renard gets behind the wheel of The Science Museum's hydrogen fuel cell car
Wednesday, 23 August 2017
Organisations from across Swindon came together at Lydiard Park today (23 August) to find out about the benefits of using hydrogen fuel technology.
The Hydrogen Hub Car Showcase saw some of the town's top employers such as Arval, Nationwide, The Science Museum and National Trust showcase the hydrogen fuel cell vehicles they are currently using within their companies. The vehicles were funded as part of last year's successful bid to the Office for Low Emission Vehicles, supported by Swindon Borough Council and the Hydrogen Hub.
Now a national organisation, the Hydrogen Hub was formed in Swindon in January last year and counts Swindon Borough Council, Wiltshire Council and Swindon and Wiltshire Local Enterprise Partnership among its executive members.
The Hub is a business-led group which works to promote the commercial use of hydrogen applications, both stationary and automotive.
Today's event gave visitors the unique opportunity to learn about the latest cutting edge, green technology on the vehicle market.
A business-focused event, attended by Swindon Borough Council Leader Cllr David Renard, also took place in the morning, which explored the benefits of hydrogen vehicles and funding opportunities and included the opportunity to ride in and explore the hydrogen fuel cell cars on display outside Lydiard House.
The cars were left on display throughout the afternoon to allow the public to gain an insight into the zero emission technology.
Cllr Renard, said: "The Council was one of the founder members of the Hydrogen Hub so I am delighted we were able to host today's event. Swindon has been at the forefront of hydrogen fuel technology in the UK and it was really clear today that there is a real passion from our top companies to continue to act as trailblazers when utilising this technology.
"We are currently one of only a handful of places in the country to have a hydrogen refuelling station and plans are in place to add another at Lydiard Fields this autumn. At present there are six hydrogen fuel cell vehicles being used in Swindon, but I was very encouraged to hear that the Hub has an ambition to increase that number to 175 while Arval also outlined its ambition to develop a leasing model for the technology.
"The Council is committed to supporting a growing low-carbon economy as we have outlined in our Priorities and Pledges and we will continue to provide as much support as we can to local companies in their bids for funding to the Office for Low Emissions Vehicles."
Further information about the Hydrogen Hub can be found at: www.hydrogenhub.org