Economy & Regeneration
Seven Capital to deliver £270m leisure-led mixed use scheme at North Star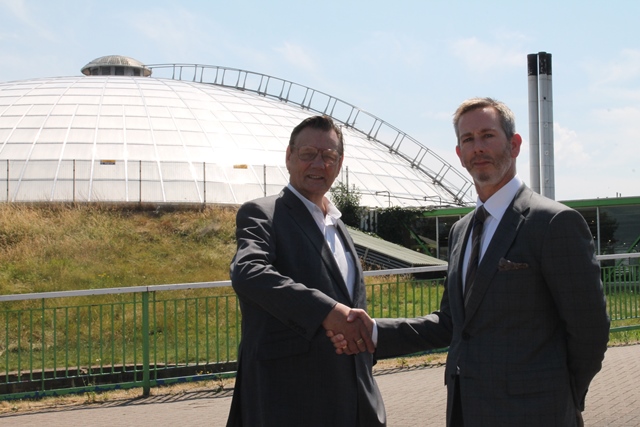 Cllr Garry Perkins, Swindon Borough Council's Cabinet Member for Regeneration (left) with John Watkins, Director at Seven Capital Plc, outside the Oasis Leisure Centre at North Star
Thursday, 6 July 2017
Plans to redevelop Swindon's North Star Site into a large-scale regional leisure destination look set to charge full steam ahead as a proposal submitted by a leading property developer to take over the scheme was agreed by Swindon Borough Council.
Seven Capital, which is one of the country's most active developers, has taken control of the North Star site and will now bring forward a 1,000,000 sq. ft. £270million scheme.
This will be the latest addition to its existing £1bn development programme, which includes a mix of large-scale residential, commercial, and mixed use developments, some of which, like North Star, are catalysts for wider regeneration.
The developer will now get to work on submitting a planning application for the scheme, to include space for an indoor ski centre, IMAX cinema, bowling alley, a major trampoline centre and hotel complex, along with a mix of bars and restaurants.
The planning application process is likely to take six to nine months to complete, following which Seven Capital will begin work on the development. The scheme is expected to launch by 2021.
John Watkins, Director at Seven Capital Plc said: "This is a long-awaited development for the people of Swindon, and a very exciting project for Seven Capital. Not only will it bring a host of new leisure activities and brands for residents to enjoy, it will also help to attract many more visitors to the area. In recent years, Swindon has become increasingly popular with London commuters, the arrival of a multi-million-pound leisure scheme will only serve to build on this and cement the town's position as a real hotspot.
"At Seven Capital we have a strong track record of delivering large-scale complex regeneration projects and are looking forward to applying our expertise to bring Swindon's North Star to life."
Cllr Garry Perkins, Swindon Borough Council's Cabinet Member for Regeneration, added: "This is a landmark development for Swindon and a real statement of our economic ambitions for the town. The regeneration of North Star is one of the Council's key Pledges and I am delighted we have teamed up with one of the country's leading property investment companies in Seven Capital to deliver what will ultimately be the UK's largest leisure destination, when one includes the Oasis Leisure Centre.

"More than a quarter of a billion pounds will be invested in the site, which will give a huge boost to our local economy, not to mention the hundreds of jobs the scheme will bring, as well greatly enhanced leisure opportunities that will continue to make Swindon a great place to live and work.

"I look forward to seeing the plans being submitted before the end of the year so we can push forward on one of the most exciting projects the town has ever seen."
For more information on Seven Capital visit www.sevencapital.com