Economy & Regeneration
Council consulting on plans for Swindon's economic future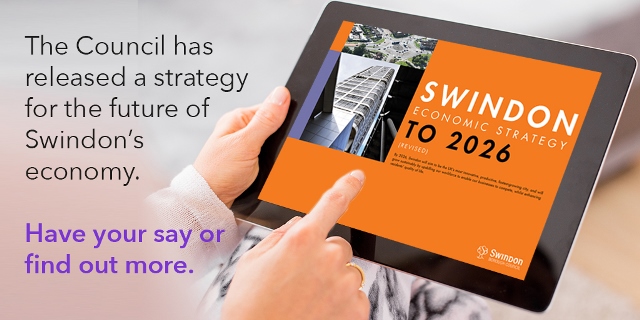 Monday, 12 June 2017
Ambitious plans to add almost £2 billion to the value of Swindon's economy will be shared with people in the town from today (12 June).
Swindon is already one of the UK's fastest growing towns and the refreshed Swindon Economic Strategy sets out a vision to build on this over the next 10 years.
Swindon Borough Council is asking members of the public to give their feedback on the strategy during a four-week consultation with business owners and residents to influence the future of Swindon's economy by completing a consultation survey.
The new draft Economic Strategy for Swindon sets out the ambition to grow Swindon's economy, create jobs, attract investment and create a prosperous town for local people and communities. Swindon will also be promoted as a key location for people to work and live.
The strategy has been refreshed from the original document agreed in 2013 in response to the changing national economic landscape.
Swindon is ranked as the UK's seventh most investable town or city, and the Economic Strategy aims to grow the town's economy from its current value of £6.6 billion to £8.4 billion by 2026 – an increase of 27 per cent.
The strategy also sets out to build on Swindon's strong growth in population, with the Borough's population set to grow by 25 per cent to 250,000 in the next decade.
Key points in the Economic Strategy include creating opportunities for young people and developing employer engagement with a focus on schools and colleges. The strategy also sets out a vision to build partnerships with regional universities, Swindon College and New College to increase the provision of higher education available in Swindon.
Further to this, the strategy also sets out plans for Swindon to build upon its national reputation as a centre for advanced engineering and technology by engaging in inward investment and promotional activity. The plans include an assessment of potential locations for the automotive supply chain and delivering an advanced technology park.
Swindon's regeneration forms a key part of the strategy including establishing a regional leisure destination at North Star, building upon Swindon's national reputation as a low carbon economy, delivering business support and attracting inward investment, and ensuring continued delivery of high quality housing. It is anticipated the town centre will attract investment of £0.5 billion over the next 10 years.
The strategy also sets out an ambition to create 20,000 new jobs and the building of an extra 22,000 homes to support the forecast growth.
The Economic Strategy links to the Council priorities: to improve infrastructure and housing to support a growing, low carbon economy; to offer education opportunities which lead to the right skills and the right jobs in the right places; and to ensure clean and safe streets and improve our public spaces and local culture.
Cllr Oliver Donachie, Swindon Borough Council's Cabinet Member for the Economy and Skills, said: "Swindon has enormous potential and is perfectly positioned to take advantage of opportunities for economic growth. We have bold plans for the future and this strategy aims to bring all of these together to paint an exciting picture of our town.
"The Economic Strategy has some ambitious targets and the consultation phase is the Swindon public's opportunity to have their say on the strategy and really make a difference to the town's future. I would encourage people to let us know what they think and help us produce a strategy that will deliver the best possible town for all of us."
The draft Economic Strategy and an online survey are available at www.swindon.gov.uk/economicstrategy Responses must be submitted by the 10 July.