Economy & Regeneration
Council scoops top regional planning award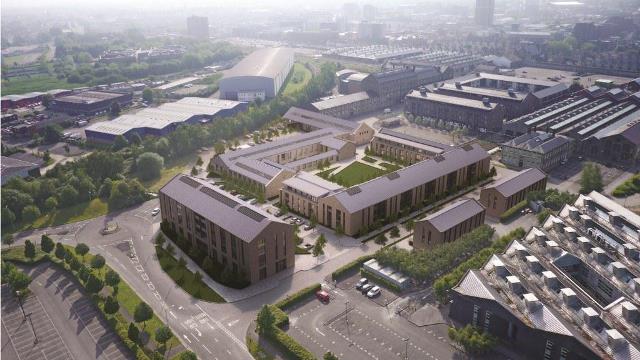 8th May 2017
Swindon Borough Council's planning team have been praised for their work in helping to transform an important part of the town's heritage.
Judges from the 2017 Royal Town Planning Institute (RTPI) South West Awards were so impressed with the work that went into developing The Old Railway Quarter next to the Designer Outlet Centre, that they have given the Council and Thomas Homes Ltd its 'Excellence in Planning Delivery' award.
The Old Railway Quarter comprises a 201-home development, encompassing the restoration of a Grade II* Listed building, in the Swindon Railway Works Conservation Area.
The Council's planning team worked in collaboration with Thomas Homes to ensure the development was of the highest quality, while complementing the restoration of the other heritage sites in the area.
The development of The Old Railway Quarter was not the only Swindon housing project to be shortlisted for recognition with Crest Nicholson's Tadpole Garden Village entered in the Excellence in Planning to Deliver Housing category.
Cllr Toby Elliott, Swindon Borough Council's Cabinet Member for Strategic Planning and Sustainability, said: "This award shows just what can be achieved when a local authority works hand in hand with a developer with the joint aim of creating something really special.
"The Old Railway Quarter and Tadpole Garden Village have set the benchmark for quality which we expect future schemes to match. It is further evidence of our determination to deliver the homes Swindon needs and the quality it deserves."
Chris Brotherton, Land and Sales Director for Thomas Homes Ltd, said: "The Old Railway Quarter was a challenging site to develop. Thomas Homes and the Swindon Planning Team were able to work together to overcome these challenges. We are very proud of what has been achieved here."
The RTPI South West represents more than 1,500 professional planners across the region and the organisation's awards identify and highlight examples of planning excellence in the South West. The awards promote good practice across the wide range of activities in which professional planners are involved.
Mike Oakley, Chair of the RTPI SW Awards Judging Panel 2017, said: "Winning at this year's awards is a stamp of excellence from the region's planners. It is an acknowledgement of the positive impact planning has had on the community and environment. Winning this year was particularly difficult given the standard of submissions for the 2017 Awards was the highest in the 25 years."