Economy & Regeneration
Flagship Swindon locomotive to star in new exhibition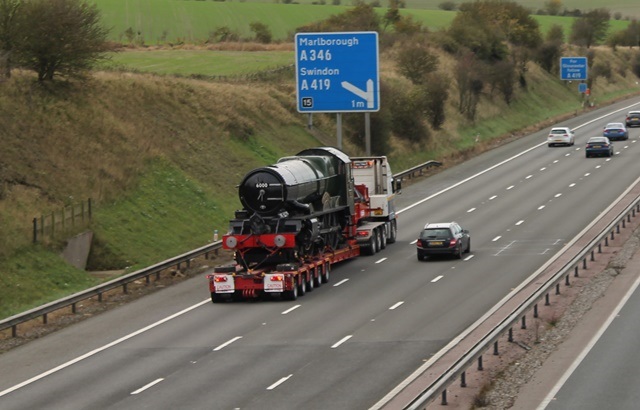 King George V travelling back to Swindon via the M4
6th April 2017
A Swindon-built locomotive, which made an emotional return to the town almost 18 months ago will be the star turn in a new exhibition that opens at STEAM on Saturday (8 April).
King George V (KGV) returned to Swindon Borough Council's STEAM Museum via a low loader in November 2015 and received plenty of admiring glances as it made its way into the town from the M4.
The locomotive was designed by Charles B Collet and was the GWR's most powerful 4-6-0 engine. KGV was the first 'King' Class built at Swindon Works in June 1927, and was shipped to the United States in August 1927 to feature in the Baltimore and Ohio Railroad's centenary celebrations. On its return to Britain, the locomotive resumed operation on the GWR network, hauling high speed passenger services such as the Cornish Riviera Express.
The National Railway Museum in York loaned the locomotive to STEAM in preparation for the town's Swindon175 celebrations last year, which honoured Swindon's railway heritage.
Now the engine will be the focus of attention once more as 'King George V – A Locomotive Legend' opens at the museum this weekend. The exhibition celebrates the 90th anniversary of the building of the famous locomotive.
Showing objects, documents and photographs from STEAM's collection, the exhibition explores the story of King George V, from its design, build and operation; through to its decline under British Railways and eventual return to glory when it was preserved as part of the National Collection.
Ian Surtees, Swindon Borough Council's Leadership Manager for Museums and Heritage, said: "Swindon produced many magnificent engines, but King George V is arguably the most famous of them all to be built at the Swindon Railway Works 90 years ago.
"The King has a very interesting past and this new exhibition encapsulates this history perfectly and I would urge everyone to visit STEAM and learn about the engine which made Swindon a world beater."
King George V – A Locomotive Legend runs from 8th April to 31st December 2017 and is included with standard admission. For more information about STEAM visit: www.steam-museum.org.uk