Economy & Regeneration
Faringdon Road refurbishment nearing completion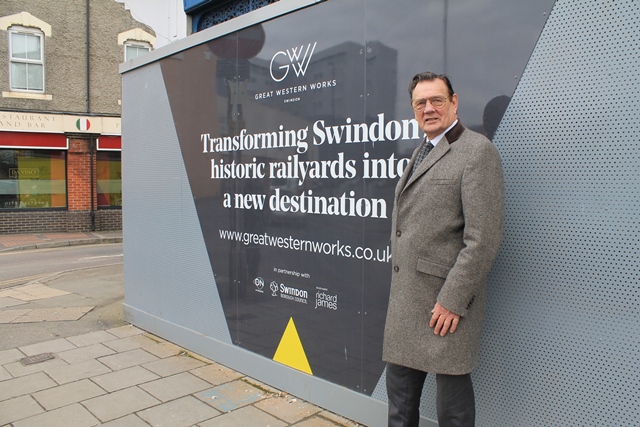 Councillor Perkins at Faringdon Road site
23 March 2018
The renovation of 1 and 3 Faringdon Road is reaching its conclusion and will provide eight distinctive apartments and two separate commercial units of 1000sqf and 1400sqf.
The buildings were originally built in the 1890s by businessman Alderman W.G. Little as a haberdashery and millinery until his death in 1927. Their renovation is part of the Council's wider ambitions to improve the link between the railway heritage quarter and the town centre.
The premises have lain empty for several years and the transformation will provide well designed, spacious urban living in one of Swindon's most beloved heritage buildings and is the beginning of regeneration in the area.
The close proximity to the town centre and railway heritage quarter aims to transport residents into the Swindon's past while maintaining a modern tone.
The Council investment forms part of other ongoing works in the area including improvements to Wellington St due to start soon and the RICS nominated unit 3 & 5 project at the Carriage Works which continues to progress at pace with tenants due to move in soon.
Cllr Garry Perkins, Cabinet Member for Regeneration, said: "The regeneration of Faringdon Road is an exciting and positive step towards the restoration of Swindon's town centre. Not only will this project create a charming place for people to live but will help bring life and energy back into the surrounding area.
"We are making some really good progress with Forward Swindon on regeneration in this area of the town centre and at this site it was really important we took the time to renovate these buildings carefully to keep the heritage, whilst at the same time improving them for modern day use."