Economy & Regeneration
Plans to transform part of Queens Drive could take a major step forward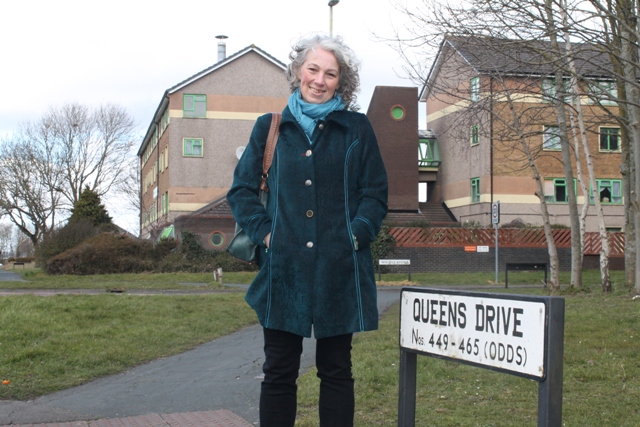 Cllr Cathy Martyn at the site of the planned £30m regeneration of Queens Drive
Friday, 9 March 2018
A £30m regeneration scheme to give residents in Swindon the chance to access additional affordable housing could move a significant step closer next week (14 March).
The major project along Queens Drive will also further enhance one of the main gateway routes into Swindon.
Swindon Borough Council's Cabinet will be asked to approve the demolition of properties alongside Queens Drive, at George Gay Gardens and the T-blocks to the south of Wolsely Avenue, in order to make way for 149 brand-new affordable homes.
It comes after nearby Sussex Square underwent a similar transformation with £10m being invested in an award-winning development of 48 new affordable homes and associated retail units.
The current Council-owned homes along Queens Drive are in need of significant investment and the new properties will form part of the Council's Vision with Pledge 7 outlining the Council's commitment to building 266 units as part of its affordable council hosing development programme.
In addition to the 48 homes at Sussex Place, 14 homes have already been built at Townsend House and three at Brookfield, while 63 are currently being constructed and a further 21 are being planned.
The Queens Drive development will see 99 flats and 50 houses built, ensuring the Council exceeds the number of units outlined in its Pledge.
Similar to Sussex Place, tenants will benefit from energy efficient standards at Code 4 of the Sustainable Homes Standards, which will help reduce energy costs.
A consultation on the design of the development was held in January this year and, although concerns were raised about the retention of existing trees, parking and congestion, the overall feedback was supportive of the regeneration scheme proposals.
The project is estimated to cost £30.5 million, which will be funded from a grant from Homes England, and the future rents and income generated from the development.
The Council's Cabinet has already agreed to the principal of redeveloping the site and existing long-term tenants have already been moved into alternative accommodation to enable the demolition to take place. Part of the buildings will be used to temporarily house tenants on a short-term basis, but these tenants will be found alternative accommodation in due course.
If approved, building work is expected to start early 2019 and could be completed late 2020.
Cllr Cathy Martyn, Swindon Borough Council's Cabinet Member for Housing, said: "The nearby regeneration of Sussex Place shows how investment on this scale can rejuvenate local communities and we are looking to continue that work with this latest Queens Drive scheme.
"We are committed to our affordable council housing development programme and the regeneration of Queens Drive is a hugely exciting project that will transform a major gateway into the town and provide quality, modern homes for our tenants."