StreetSmart
Nearly 100 volunteers turn out for Swindon's Great British Spring Clean despite bad weather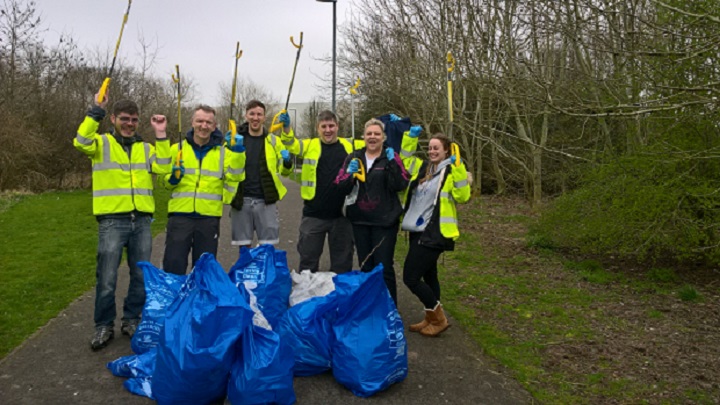 Nearly 100 volunteers defied the bad weather to turn out for Swindon's Great British Spring Clean this year, collecting almost 150 bags of rubbish and recyclables and helping make Swindon a tidier smarter place.
Billed as Britain's biggest-ever community clear - up, the Great British Spring Clean ran from 3 – 5 March as a call to arms to get half a million volunteers out on litter-picks up and down the country.
With Swindon Borough Council underpinning the event, teams who rolled up their sleeves included John Lewis Partnership, Nationwide, Raychem Fishing Club, Westlea Church as well as residents from Ramleaze, Nythe, Cheney Manor, Priory Vale, Park North, Walcot, Middleleaze, Lawn and Shaw. Council staff also volunteered in their home areas.
Besides huge quantities of refuse being recovered, including tin cans, plastic bottles, fast food wrappers, soiled nappies, piles of wood and much more besides, other Items were more bizarre, ranging from scores of car tyres, hub caps, head lights and metal rods to signs, plastic trays, metal poles, and even a car bumper and exhaust!
Swindon Borough Council gave full backing to the volunteers, loaning litter picking equipment, distributing Keep Britain Tidy branded bags to registered groups and individuals and removing the waste collected.
Tracy Scott, the Council's Community Facilitator – Locality Projects, said:
"The response was magnificent and the Swindon community rose to the occasion, just as they did last year. It was a shame that the severe weather impacted on our turn out at the start of the campaign, but a number of individuals put a brave face on the rain and there was plenty of follow up after that. I'm grateful to our StreetSmart colleagues for sourcing the equipment.
"I'll be reporting our outstanding results back to Keep Britain Tidy to place on record everyone's efforts in Swindon."
Cllr Keith Williams, Cabinet Member for StreetSmart, Highways, and Transport, added:
"Having also gone out on the clean-up, I saw for myself the hard work and commitment of everyone and the results were spectacular.
"My thanks to Tracy, her colleagues and above all the Swindon community for giving up their time to clean up the Borough. Fly-tipping and litter dumping are pernicious, and we won't be relaxing our efforts – on the contrary, we will be working closely with Keep Britain Tidy on other initiatives as they come along."