StreetSmart
DROVE PRIMARY SCHOOL PUPIL PROVES SHE'S 'STREETSMART' IN COUNCIL'S ENVIROCRIME SCHOOLS INITIATIVE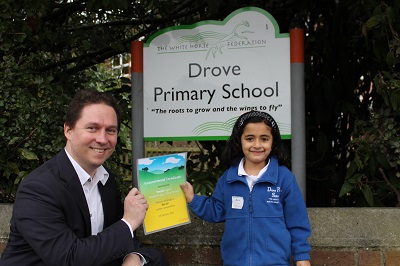 Swindon's Cabinet Member for StreetSmart, Highways, and Transport, Keith Williams, today presented a Drove Primary School pupil with a certificate for her competition-winning 'StreetSmart' anti-litter sticker.
Omsee Joshi, 5, won the certificate for her highly imaginative sticker designed as part of the Council's KS1 environmental awareness programme, with its simple but positive message of 'don't drop your litter – put it in the bin'.
Mr Williams visited the school to hear about the KS1 work with the Council Environmental Cleansing and EnviroCrime team, who have been delivering educational programmes to various age groups, among them Drove School KS1 pupils, to engrain positive behaviours towards waste and waste management.
The programme gave the pupils, aged 5 – 6, the chance to learn a whole series of key messages, including a song about "don't drop your litter, put it in the bin" based on the 10 green bottles tune, how considerable rubbish can be recycled, shared anecdotes about other peoples' rubbish ending up in their garden and that very few items need to be put in to the general waste.
This is an excellent start on their Envirocrime education journey and the intention is to meet the children again as they move through the schools system where they will begin to learn more detail about rubbish and the consequences to the environment.
Envirocrime officer Pam Jones, who is delivering these programmes, introduced the Councillor to pupils and staff and described the work achieved.
Commenting on the programme, Cllr Williams said: "This is an invaluable initiative, allowing the Council to work in partnership with schools to achieve positive learning and strong environmental awareness which will stay with the pupils as they progress through their education. Well done to Omsee and the other pupils, as well as school staff and Council colleagues, for all their hard work."
The youngsters also learnt about re- using items rather than discarding, practising this by sharing their baby toys and clothes with younger siblings. Also, through role- play, they looked at the behaviour of walking down the street and dropping litter, the correct thing to do with rubbish, and the behaviour of adults and children throwing rubbish from vehicles.
Between August - December 2016, the Council has issued 175 Fixed Penalty Notices for littering and other waste offences and will continue to enforce, and educate residents and businesses in how to dispose of their waste responsibly.
Omsee is pictured receiving her certificate from Cllr Keith Williams at Drove Primary School