Economy & Regeneration
Gearing up for Christmas at STEAM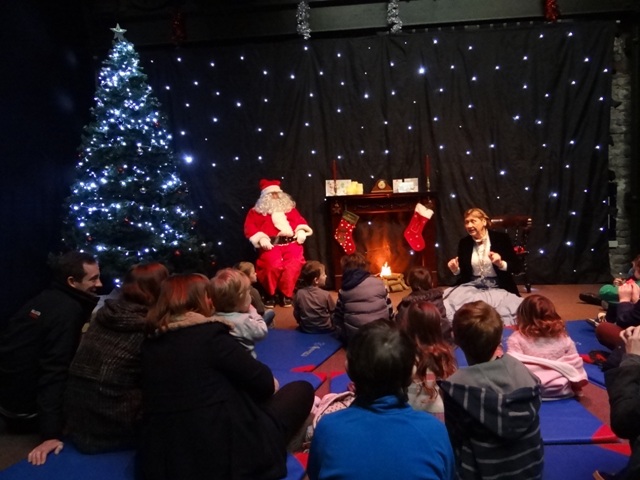 Wednesday, 29 November 2017
Families will be able to enjoy traditional choir music and festive fun at this weekend's Christmas at STEAM event (2 & 3 December).
Visitors will be able to browse through more than 50 Christmas market stalls among the GWR story-telling displays and famous locomotives at Swindon Borough Council's popular railway museum.
Festive prices for Christmas at STEAM are £1 for children (aged 15 and under) and £3 for adults, which includes free musical performances in a seated area inside the museum's Great Western Hall.
Santa will be making an appearance on both days at STEAM's Santa's Story-time sessions which are bookable in advance at a cost of £5, in addition to the entry fee.
Santa's Story-time takes place in a cosy fireside setting inside the museum's Hawksworth Hall and includes a mix of Christmas stories and sing-a-longs as well as a wrapped gift.
Carolyn Lovett, Events Manager at STEAM said: "As with everything we do at STEAM, we go the extra mile to ensure our visitors enjoy their experience and we've been very busy paying attention to all the details that make this event so magical – from organising special lighting effects and Christmas decorations, to making arrangements with Santa and his helpers."
Market stalls inside the museum will stock a whole range of tempting goods. These range from hand crafted silver jewellery, photographic prints and glass artworks, to home furnishings, Christmas decorations, wooden toys and games, chutneys and luxury confectionery.
As well as STEAM's Platform One Café, there will be a Christmas Café inside Great Western Hall, offering festive hot and cold snacks.
Cllr Gary Perkins, Swindon Borough Council's Cabinet Member responsible for STEAM, added: "Christmas at STEAM is a great festive day out for all ages and gives terrific value to our visitors. The special discounted price includes live music performances, artisan market and all the usual attractions at STEAM and so it is a fabulous time to visit the museum."
Musical performances over the weekend include Kentwood Show Choir, Swindon Male Voice Choir, Swindon School of Brass, Swindon Pegasus Brass and The Fourtune Saxophone Quartet.
Doors open between 10am and 5pm on both days.
Full programme details are available on the STEAM website at www.steam-museum.org.uk To book a Santa's Story-time session or for enquiries, call (01793) 466637.
STEAM is located right next to the Swindon Designer Outlet and car parking is in the West and North Car Parks. However, as these car parks will be particularly busy with Christmas shoppers, visitors are encouraged to use other town centre car parks such as those at Bristol Street and Sheppard Street, which are both within easy walking distance of STEAM using the Bristol Street Tunnel.
Alternatively, those living within Swindon are encouraged to get the bus, whilst visitors from further afield can take advantage of the frequent trains to Swindon from Chippenham, Bath, Bristol and beyond. STEAM and the Outlet Centre are a 10-minute walk from the railway station.
Marshals will also be on hand at the Swindon Designer Outlet car park to help relieve congestion at peak times.