Economy & Regeneration
Major careers event aimed at young people just a few days away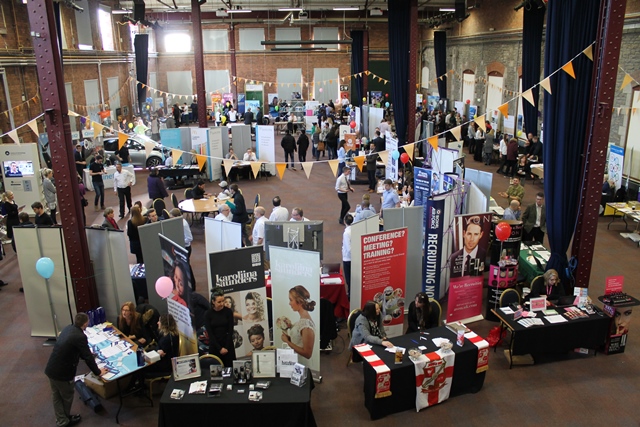 Swindon JobFest 2016
A number of Swindon's top employers will showcase what they have to offer at STEAM next Thursday (23 Feb) as part of a major careers event aimed at young people.
Swindon JobFest will provide young people aged between 16 and 24 with the opportunity to meet a wide range of employers from a range of different sectors and learn about the different career and apprenticeship opportunities that are available.
Last year, 600 young people attended the event, which has been organised by Swindon Borough Council with support from the Careers and Enterprise Company and Great Western Hospital.
Sixty-five businesses will have stands in the Great Hall of the railway museum and this year there will be 13 health and social care employers and organisations who will give information and advice on careers in the sector.
The event will be open between 1pm and 6pm and entry is free.
BMW will be showcasing an electric car and The Army will also bring their own prop in the shape of an armoured vehicle. Young people can use the event to network with industry experts and can even receive advice on setting up their own business.
Many large employers will be present on the day including The Marriott, Nationwide, BMW, the Outside Clinic, Historic England and Honda. However, companies making their Swindon JobFest debut this year include Bloor Homes, Zircron Software, Infinity Nation, Praxair and Red Severn Marketing.
Cllr Garry Perkins, Swindon Borough Council's Cabinet Member for the Economy, Regeneration and Skills, said: "Swindon JobFest has only been running for two years, but it has established itself as the number one place for young people to find out about some of the employment opportunities in our town.
"We have some fantastic companies in Swindon and they have really embraced the event so I would like to thank them for their continued support. If you are thinking about your future career or just want some advice on the options open to you, then JobFest is the place to go."
For more information about Swindon JobFest visit the Facebook (swindonjobfest) or Twitter page (@SwindonJobFest). Alternatively, for queries contact Andrew Wells at: awells@swindon.gov.uk, call 01793 466403 or email: Jobfest@swindon.gov.uk